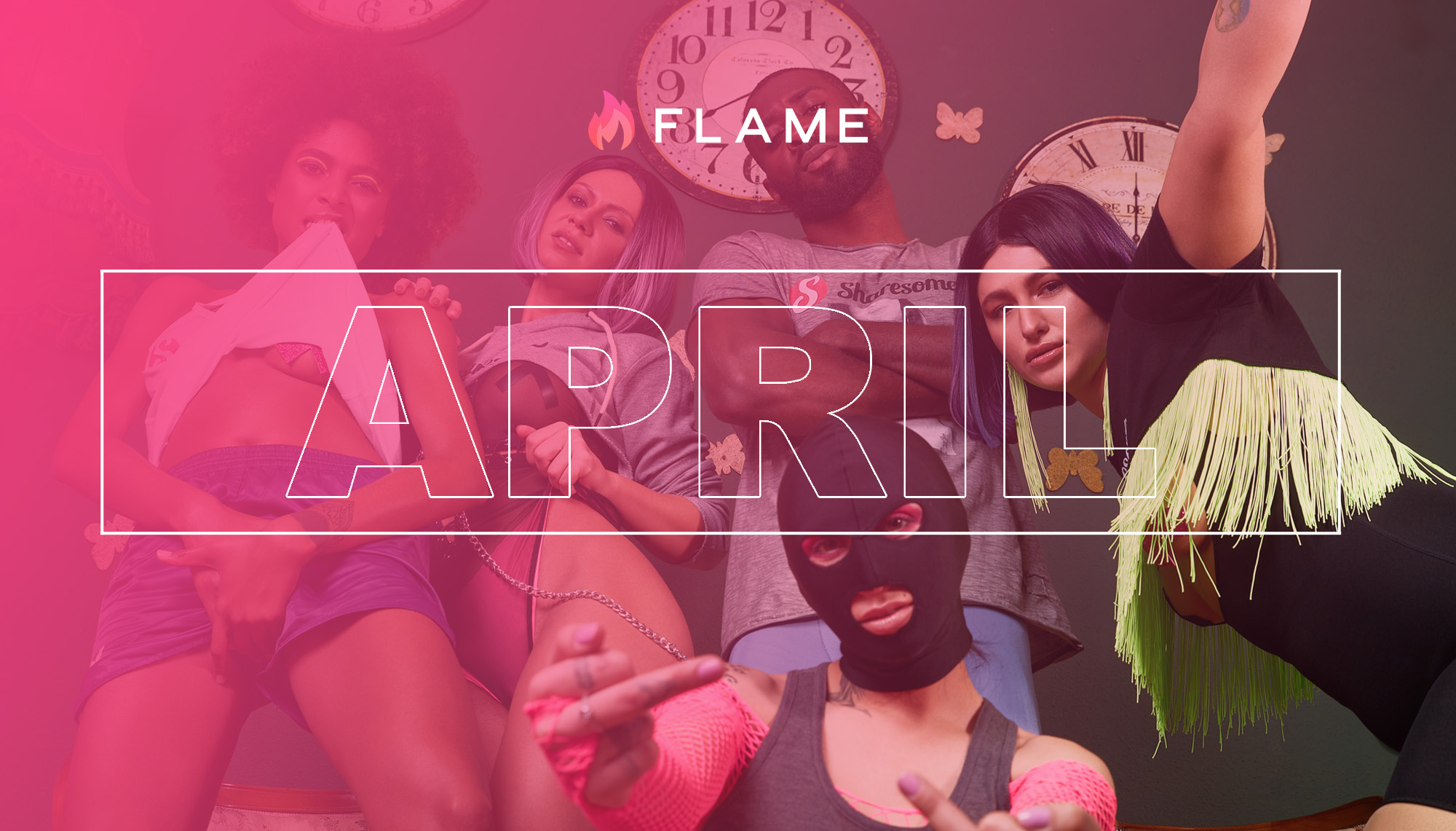 April is just another month. Well, think again.
Building the must-have platform for NSFW ads
April is the start of the second quarter of the year. It's like a mini January, but with longer daytime to enjoy the warmer weather outside. April is the first whole month of spring. It's the perfect month to set a positive tone for the rest of the year.
In April we focused on the core of our mission: the ad system.
Our mission is to create a sex-positive alternative to Instagram, Facebook, Tik Tok, Snapchat and others, with a utility token as its native currency that gives everyone access to social ads for NSFW content.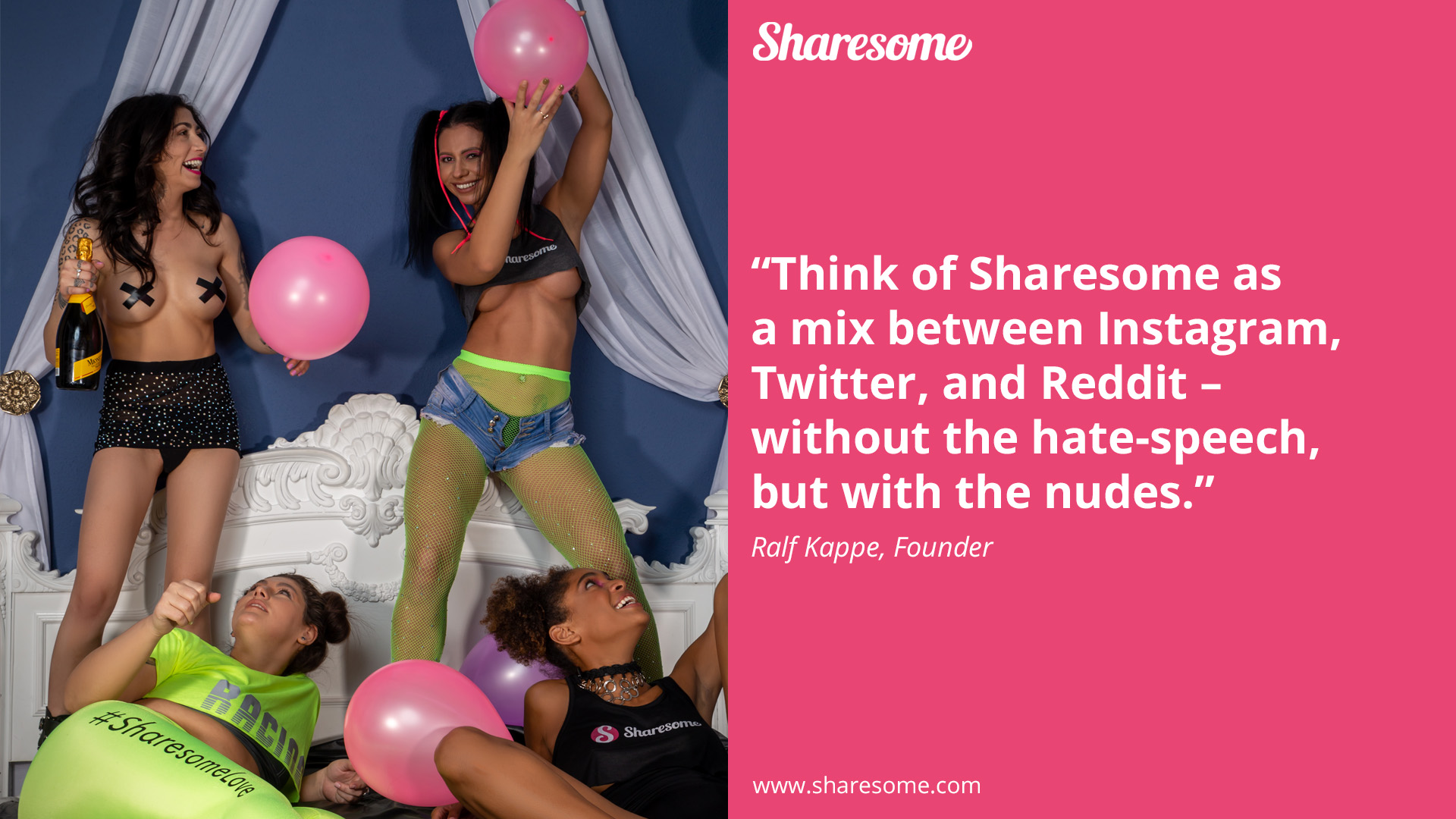 Why is advertising so important to us?
In the last years, we saw a "porn revolution". The adult business turned upside-down: Content is no longer only produced and controlled by studios, aka corporations, the business is now mainly in the hands of creators who sell directly to their fans through subscriptions and PPV (pay per view).
But because mainstream social media is basically a sexuality-free zone, adult content creators are cut off from the possibility of openly advertising their products and services.
Everybody has the right to choose their profession, but it's not possible to advertise said profession if you are a sex worker. This is why we created Flame Token as a utility token for the most appreciated utility in the adult content creator economy: advertising!
How to get started with Sharesome Ads?
Everyone can launch an ad on Sharesome in a few minutes. The only things you need are a Sharesome account and some Flame Credits in your wallet. You can purchase them on Sharesome with a credit card: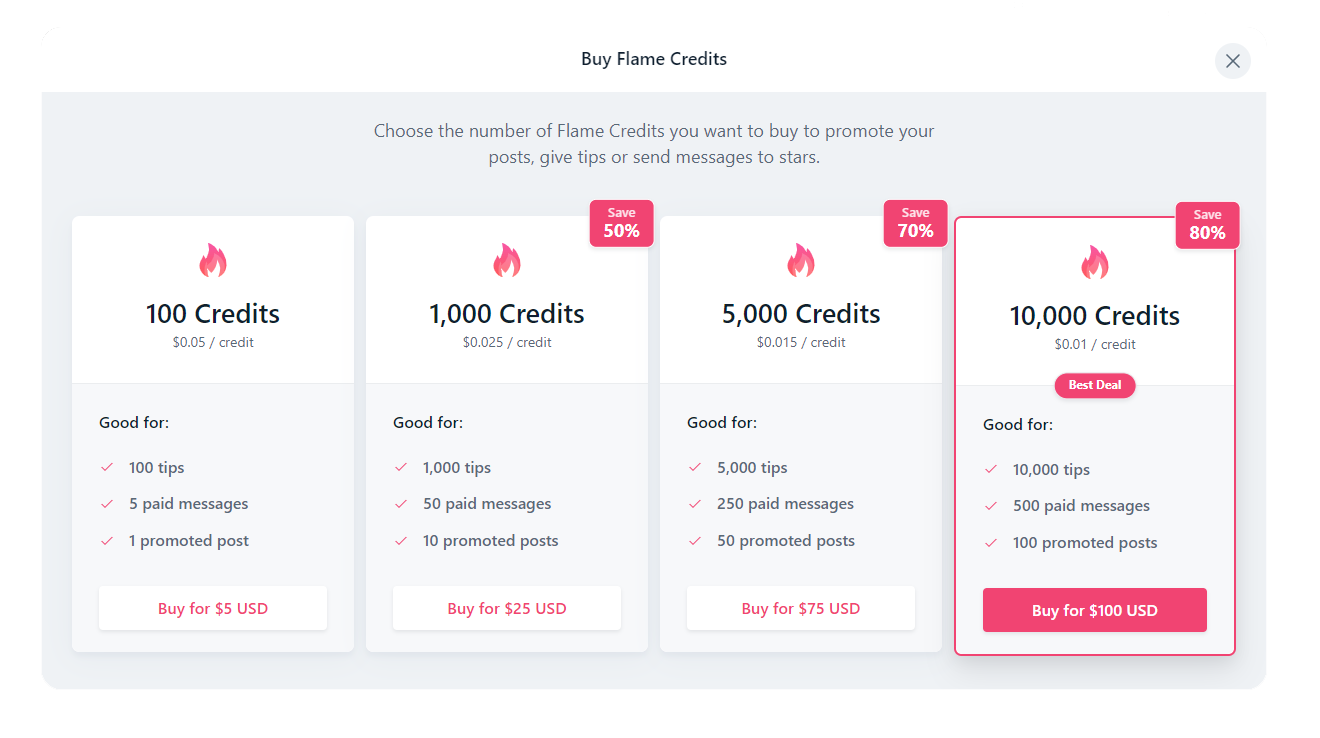 Launch an ad in minutes
Generate a post by uploading your video, photo or GIF, add your copy, link and (CTA) call to action.
Set your targeting.
Select your advertising objective.
Set your budget.
Publish ad!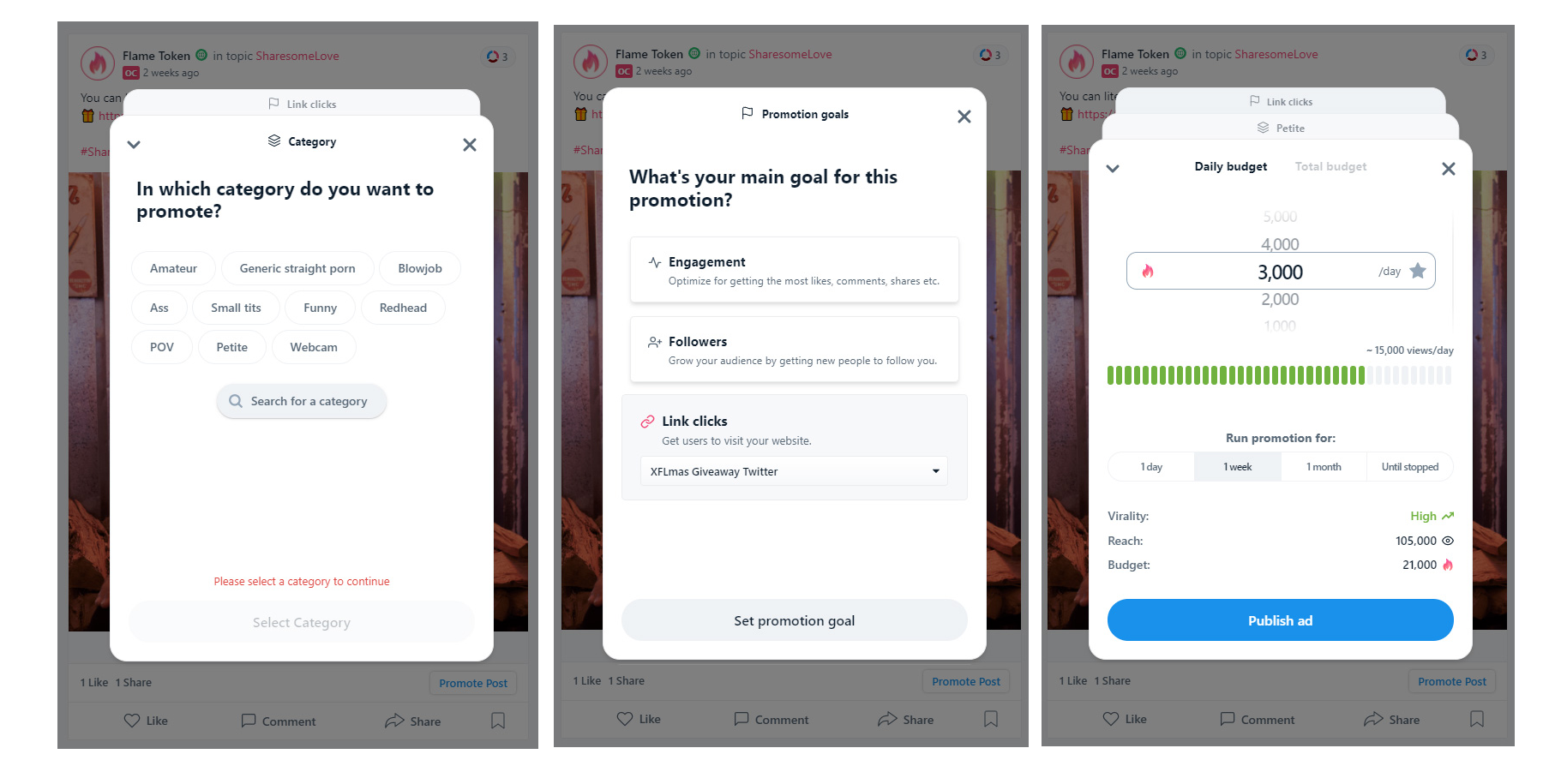 Increased utility for Flame Token
Besides the self-advertising system around promoted posts and promoted profiles, we integrated floating banners and pop-unders for our brand clients.
The new ad inventory is available for desktop and mobile and attracted already some of the bigger industry brands.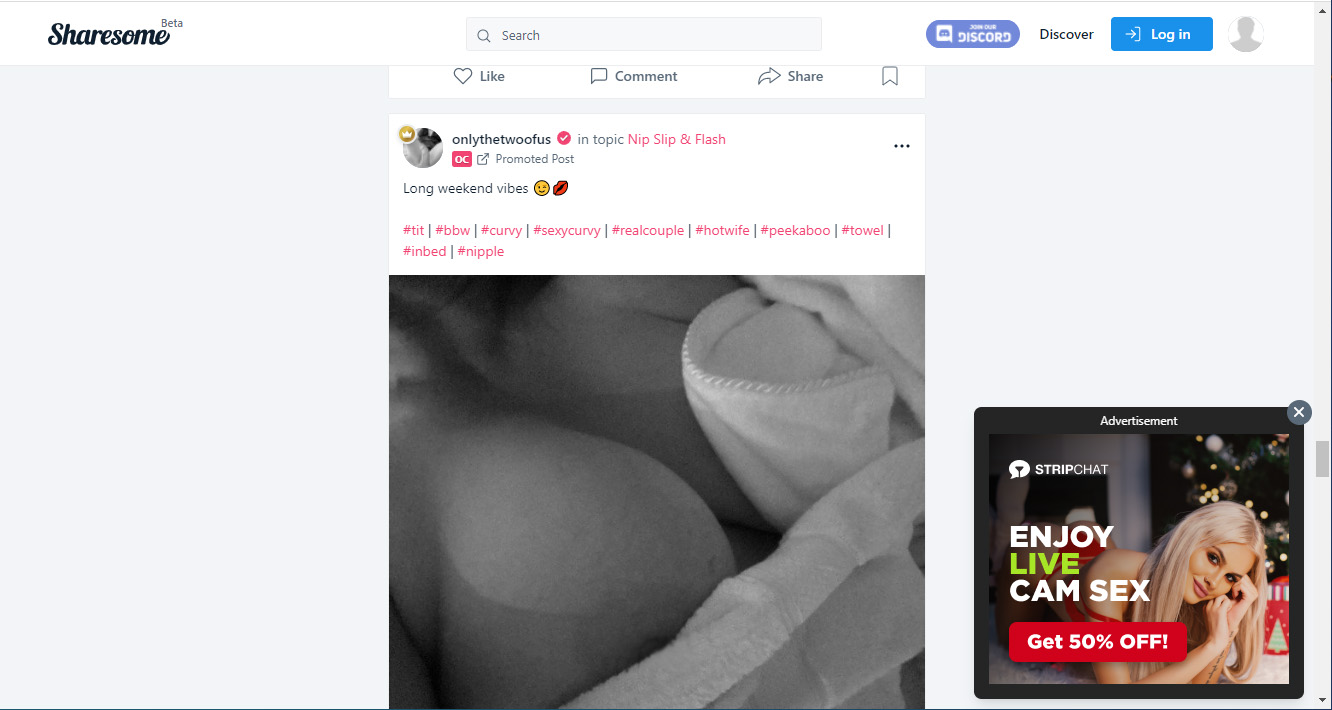 We have Brazzers on board. Brazzers is the world's leading premium adult entertainment brand, offering exclusive adult HD clips on a subscription basis! With over 1400 pornstars starring in 5000 plus movies, Brazzers offers one of the biggest catalogs in the industry.
Follow Brazzers on Sharesome here: Click here to follow Brazzers (NSFW)
Vixen Group's award-winning studios feature beautiful women in exotic locations around the globe. Its network of branded websites has over 30 million visitors every month, and its innovative studios — Vixen, Blacked, and Tushy — have won over 100 awards. With over five million followers on Instagram, the company has been credited for "changing the culture's perception of porn" and has been profiled in Rolling Stone, Forbes, BuzzFeed, Vice, GQ France, Men's Health, The Daily Beast, and on the BBC. Now the group is advertising its brands also on Sharesome as part of its social media strategy.