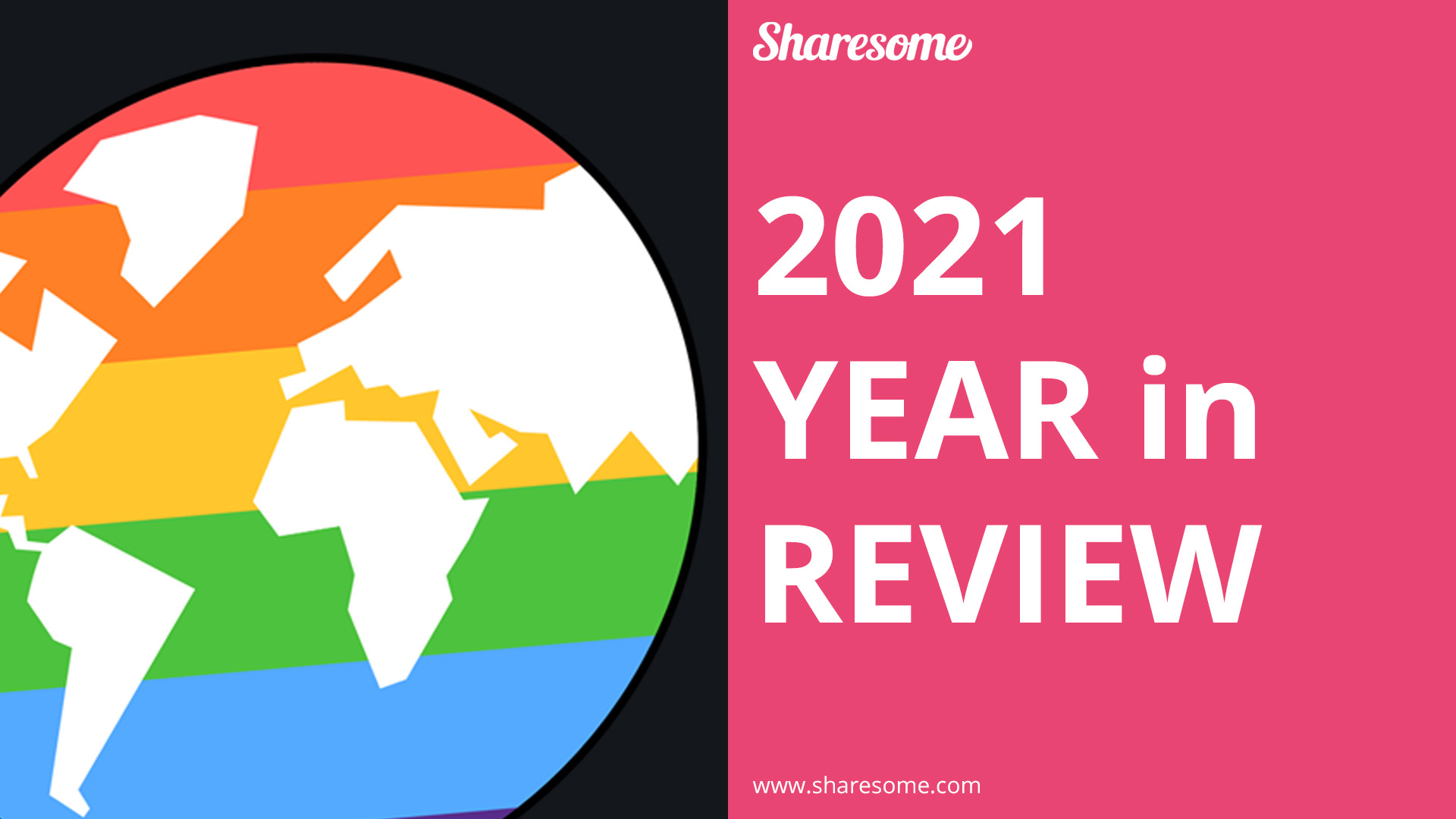 2021 Year in Review
A short recap about 2021 on Sharesome
Well, 2021 was (like 2020) challenging. As a society, we still haven't figured out how we tackle COVID-19. The vaccine moved many of us back to life, but the nature of work changed for many people around the world in 2021 forever (to say it nicely), and the world needs to respond to that.
Looking at how the year turned out for sex workers, we have mixed feelings. 2021 was the year where sex workers made a whopping 5.9 billion USD revenue on OnlyFans, but a lot of sex workers struggled because venues closed and many customers cut spendings because they also lost their jobs.
At Sharesome we also spend as a team some time apart, although we work together to build the world's first sex-positive social media platform for adults. While doing this, we face a lot of challenges, from technical challenges of building a social network as a PWA (Progressive Web App) in the browser to regulatory challenges as we work in two high-risk industries: the adult industry with Sharesome and the crypto industry with Flame Token, our native currency on the platform.
Let's dive a little bit into 2021. We will start with some Sharesome numbers and give you also some context to each number.
The most important metric is our growth number, so let's have a look at user growth. While we saw 10 million different users in 2020, this year brought us 19 million different users on Sharesome. That is a plus of 90%, or in other words 'rock-solid growth'. The average time spend on Sharesome remained at around 7 minutes which is 2:30 minutes more than people spend on OnlyFans.
We are on track to reach our goal of penetrating 10% of our potential market of around 3 billion people within the next 10 years.
The number of monthly active users (MAU) grew from 1.17 million to now 1.6 million which is a plus of 36%. The amount of posts views grew from 308 million to 387 million. Sharesome generated in 2021 over 400 million Promoted Post views for its advertisers and has currently an inventory of 50 million paid views per month, up around 50% from last year.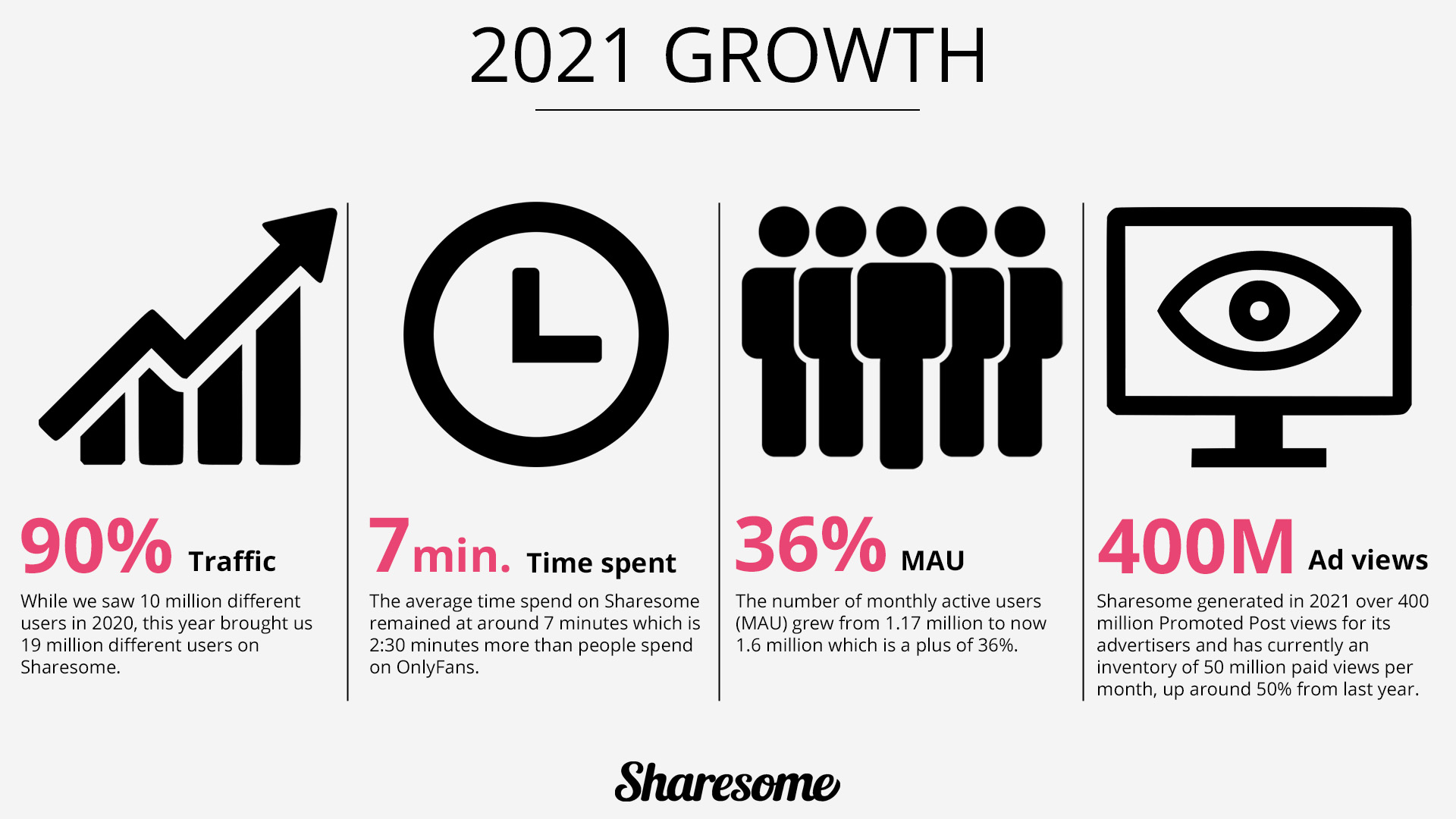 Sharesome is known for not being jealous.
Unlike any other apps, we want you to promote third-party apps or websites on Sharesome. Especially our verified creators and brands have been given tools and features to promote their fan sites, clip sites, and streaming sites.
But where did all the traffic go that our users generated?
Who are the darlings of the public?
The top destination in 2021 was again OnlyFans for the second time in a row since they have been on number 1 last year as well. Fansly was the newcomer of 2021 and had an amazing start in second place. The meteor rise started at the moment that OnlyFans announced to ban NSFW content from its site. It seems that Fansly was the big beneficiary of that announcement. Although there is trouble in paradise with Visa and Mastercard, Pornhub remains strong amongst our creators. The 3rd place goes to the tube site. On the 4th we find ManyVids. The clip site was always a favorite of our creators and remains strong in 2021. On 5th is the only live streaming site in our Top 6. It is Stripchat. Obviously, the number one choice of our creators when it comes to live broadcasts. Finally in 6th position is Loyalfans. Known for its great creator support, Loyalfans is by now a regular in our Toplist.
But what would a social discovery platform be without anything to discover.
So, who were the hottest creators and brands that registered on the platform in 2021 by Sharesome Score gained?
Below you can find the Top 3 creators and brands of 2021.
The best performing creator in 2021 was MollyKris. The second and three are Angelina_Doll and masqueradefun_22.
The best performing brand has been AdultPrime, the Netflix for porn. On the second we have Stripchat. Number three is an indie studio from UK, HertsStudioXXX.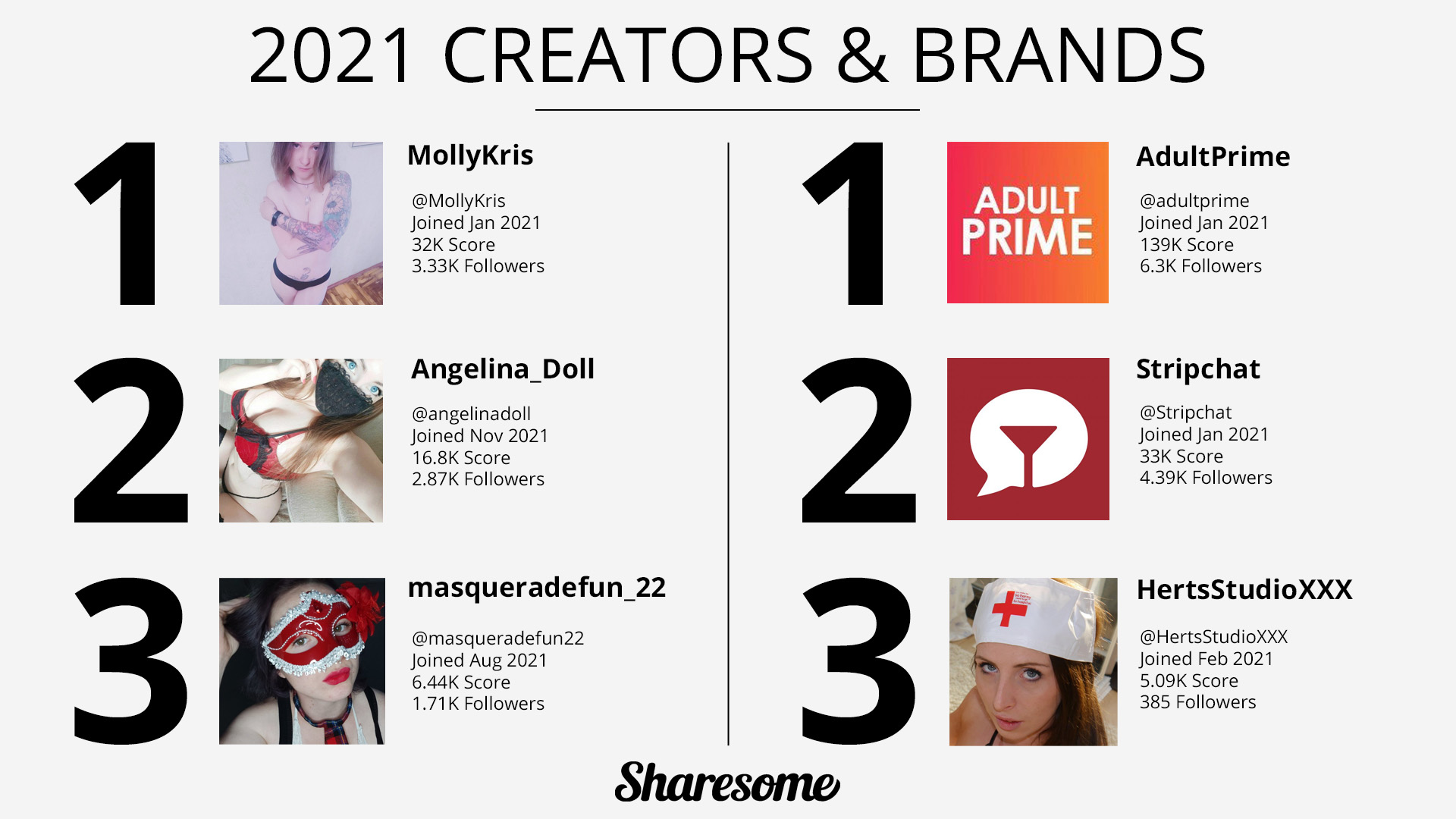 On Sharesome it is all about the freedom to express yourself, especially in a sexual way. It is all about the content that our users create and share.
So, who did best?
In 2021 that was clearly our creator hornyprogrammer with a single post in February that had a total engagement of 15,578.
That single post generated over 2,100 Likes, over 80 Comments, over 870 Shares, over 1,759 profile visits, and over 400 Saved for later. The post was viewed over 250,000 times and got also 52 Flame Token from 22 different tippers. The paysite was clicked 1,002 times, the content was expanded 8,231 times. The post was viewed around 250,000 times.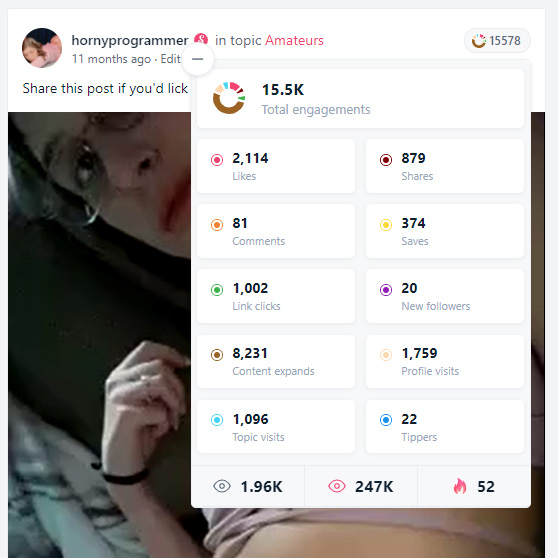 That is impressive, and even though the video was posted in February, nobody did better until now.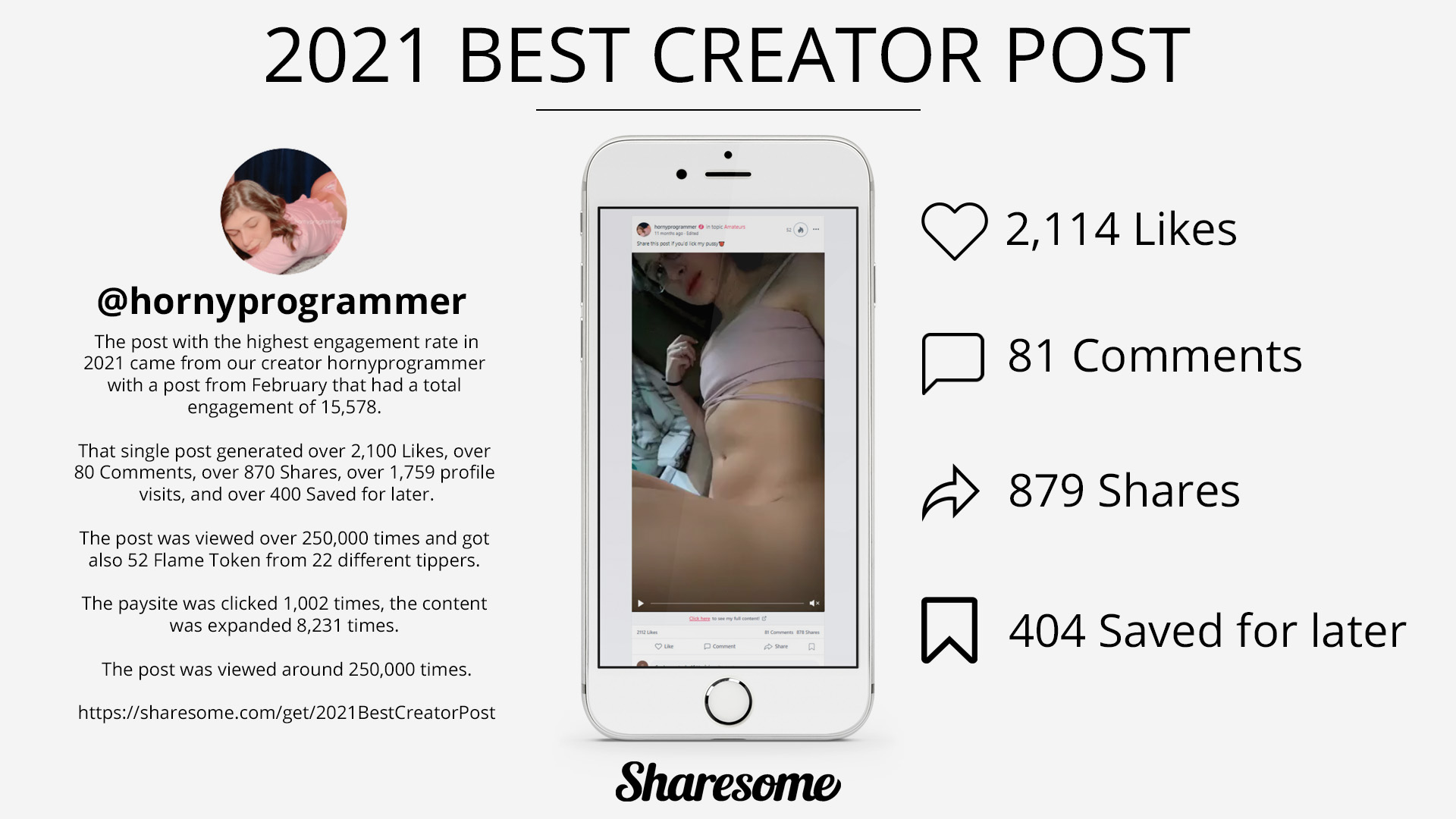 Sharesome is not only open for individual creators, it is also a place where corporate creators promote their work. And it is often amazing content that comes out of those companies. So we have been also looking at our brands and their promoted posts.
In 2021 Brazzers was the company with a post that got our attention.
In June 2021 Brazzers posted and promoted a trailer for Wedding Smashers Part 2 with Jenna Foxx & Lulu Chu. That post generated the most link clicks in 2021 and brought Brazzers 5,890 new visitors to their site.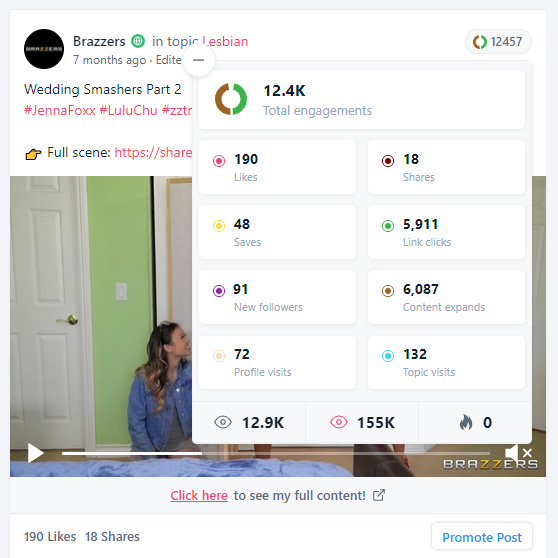 The post had a total engagement of 12,457 and was viewed around 170,000 times.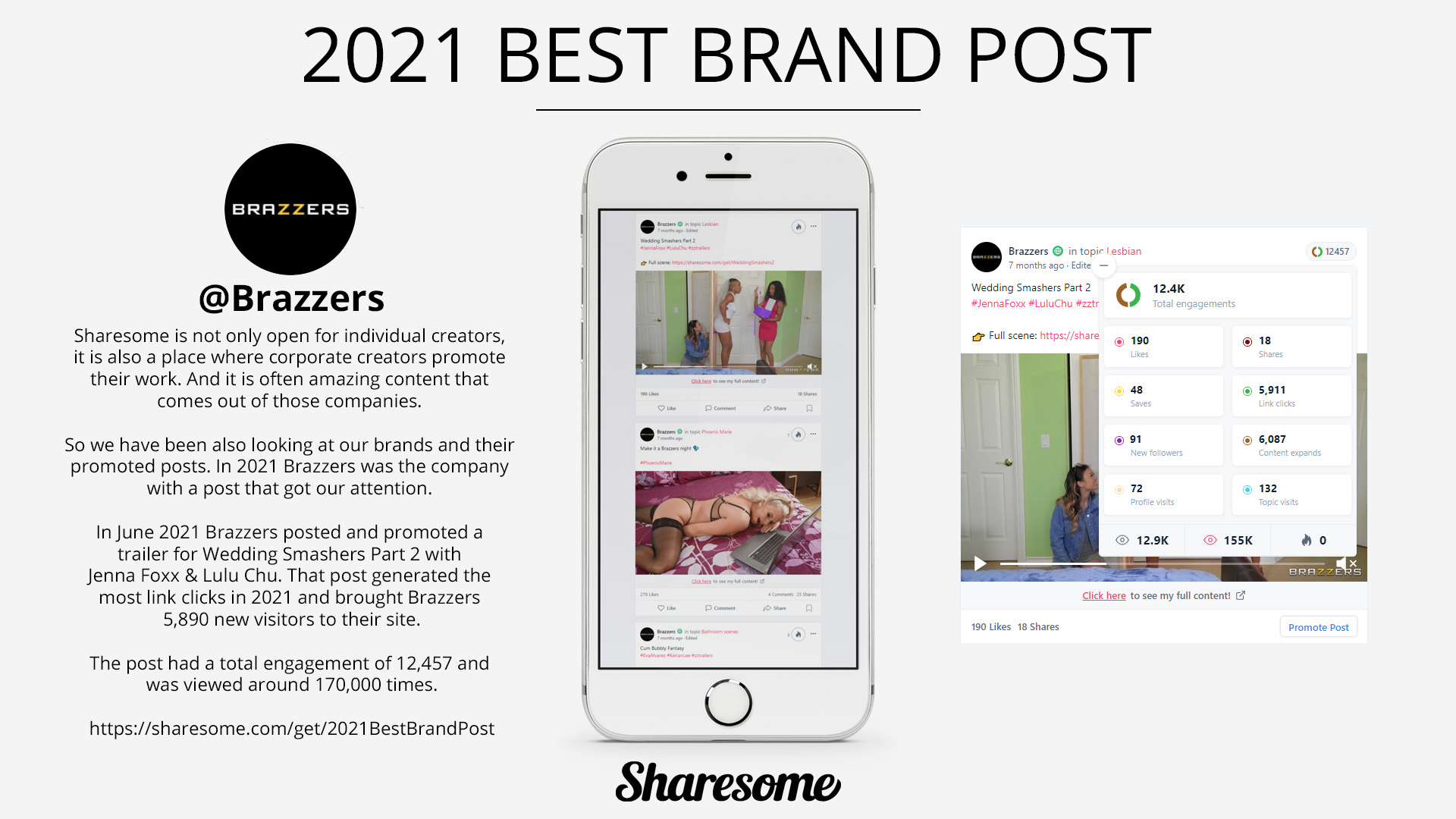 We feel like 2021 was the year when creators & brands started to recognize Sharesome as that best friend that you should tell your followers on the other social media sites about — because that best friend will never ban you.
Also, creators & brands started to recognize that Sharesome Ads are quite unique: We are the only social media site where NSFW content creators can buy promoted posts, advertise their paysite, and keep the followers that they gain in the long term.
Plus, the performance of Sharesome Ads was quite outstanding in 2021.
Let's have a look at the numbers and compare them with our mainstream peers.
The median price per 1,000 views of a promoted post on Sharesome in 2021 was around $0.20. This shows that we are still in the very early days of our advertising business, but it is for sure good news for our advertisers as they can really buy cheap traffic from us. NSFW ads aren't allowed on mainstream social media, but even if they were allowed, the CPMs would be 30 times higher than on Sharsome.
Due to the low CPM price, and even with a lower Click-Through Rate, our Cost Per Click (CPC) is at a very sexy $0.17 on average.
Now, the engagement rate is from our point of view the most important metric. The engagement rate tracks how actively involved with your content the audience on Sharesome is. The engagement rate is a metric often used in analyzing the efficacy of brand campaigns. And as creators are their own brands, this metric is super important. People who spend time interacting with a creator's posts are more likely to convert into paying customers.
The median engagement rate on Sharesome is 0.84%. That is not as good as the 0.98% on Instagram, but it's very good. Especially for an adult website.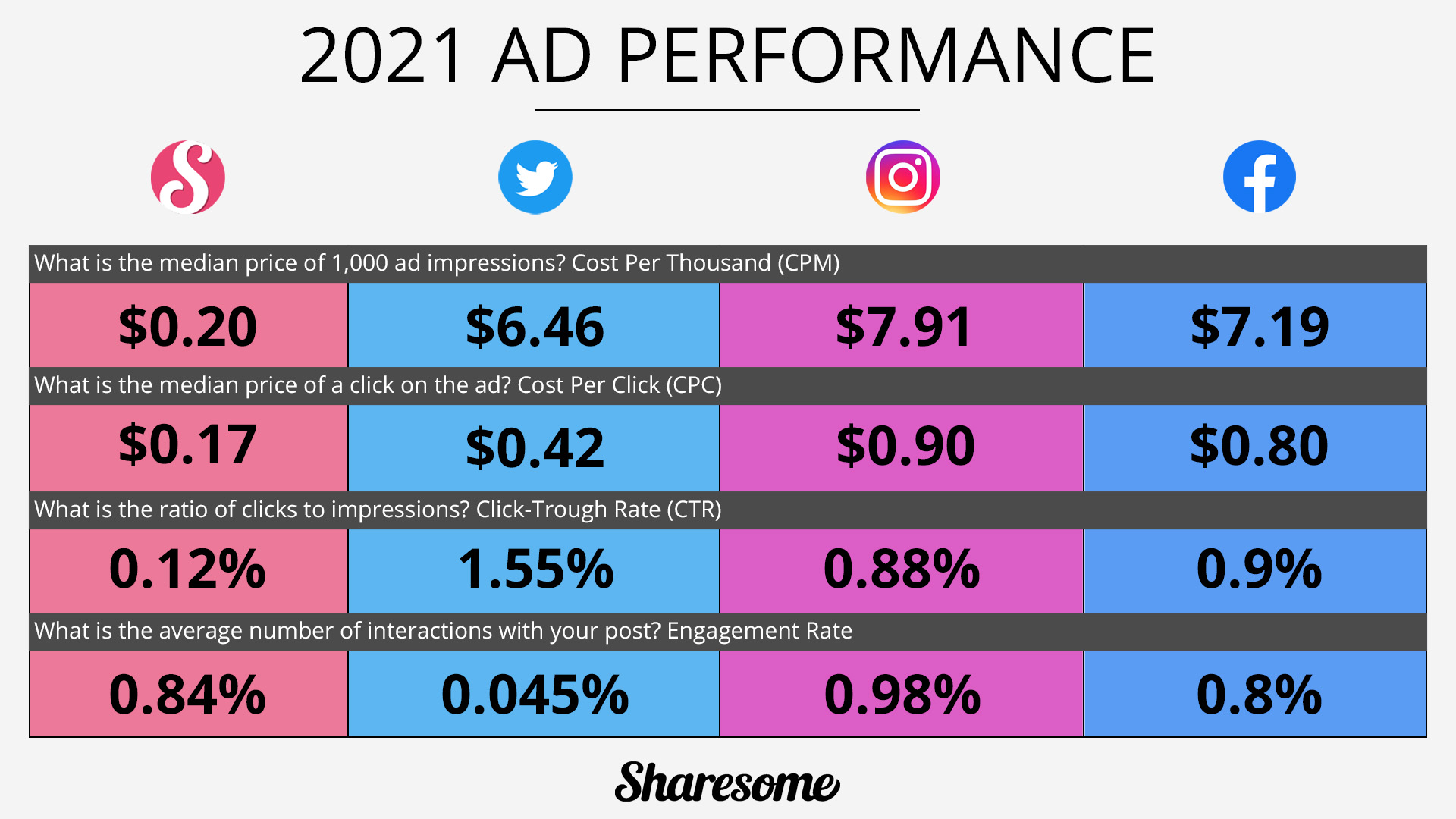 Ad campaigns on Sharesome start at $5 and are open for everyone with a Sharesome account. Every campaign is set up with just a few clicks:
Choose the category for your campaign: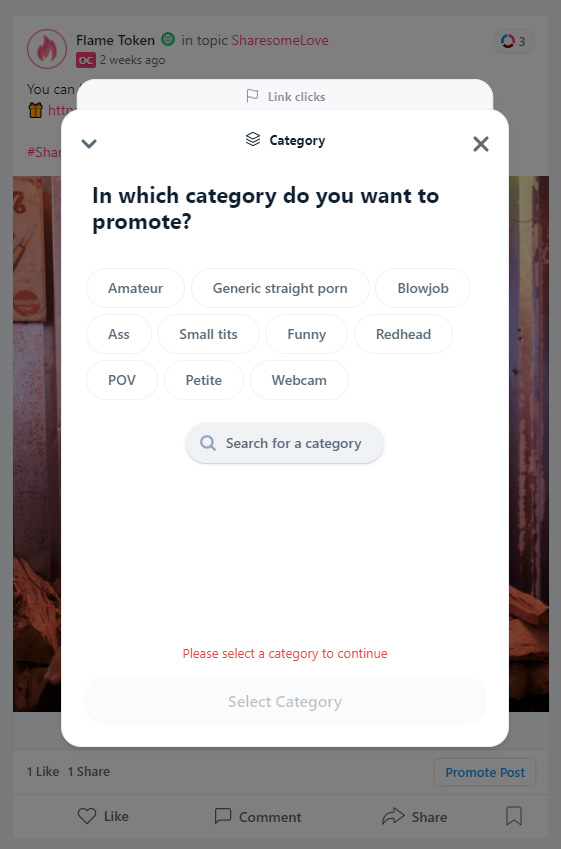 Set the promotional goal for your campaign and decide if you want top push engagement, gain new followers, or generate clicks for your website or paysite: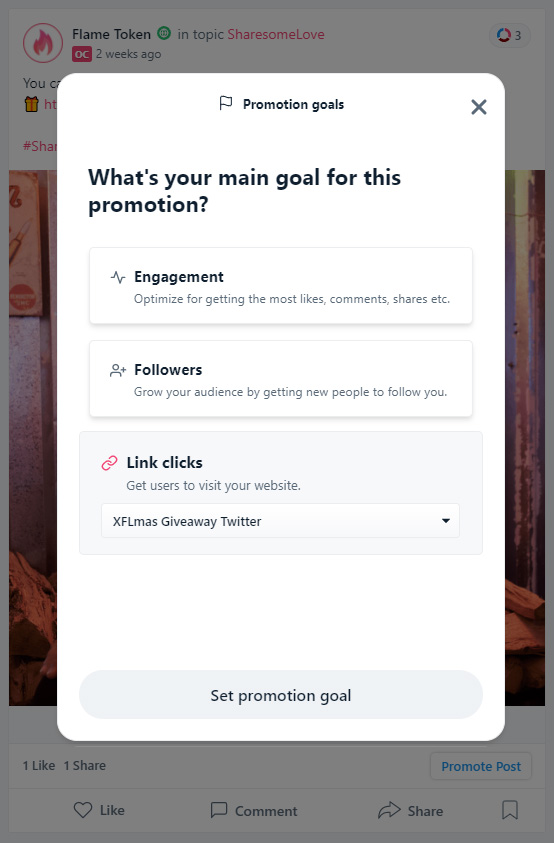 Finally set the budget for your campaign by defining the duration and reach of the campaign: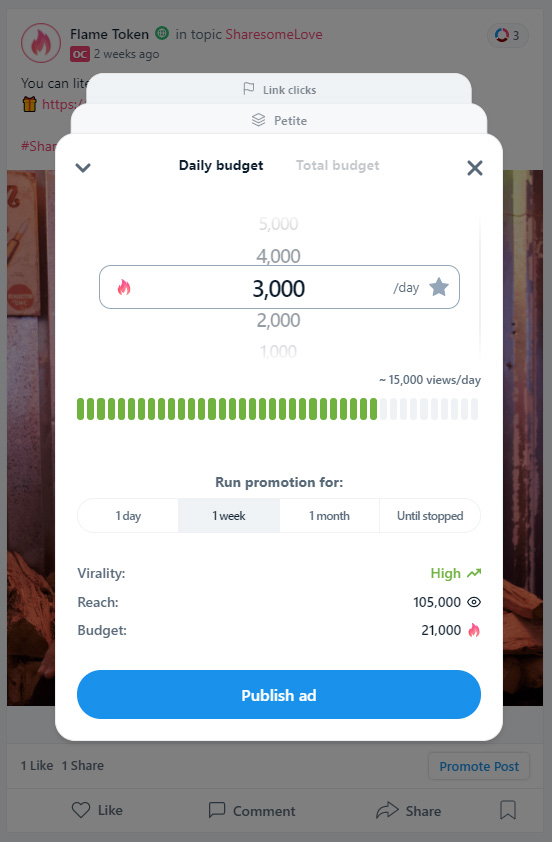 YoWith a click on "Publish ad" you are running your first promotion for your brand.
The whole team at Sharesome wishes you a good 2022. We hope it will be more boring than 2021, but still bring us the success we all wish to have. We see you on Sharesome. We love you.
Follow us on Twitter:
https://twitter.com/SharesomeCom
Join our Discord:
https://discord.gg/sharesome
And don't forget: Setup your first Sharesome ad campaign and create.
Best
Ralf Kappe
Sharesome Founder & CEO
https://sharesome.com/RalfKappe/