MetaMask is one of the most popular Ethereum wallets for storing tokens and using decentralized applications.
You can use MetaMask to store USDC and XFL (as well as Ethereum, other ERC-20 tokens, ERC-721 tokens (crypto-collectibles), and access DApps).
It is an easy-to-use and very useful Ethereum wallet. You can use Metamask to swap ETH for USDC or/and XFL on Uniswap and add liquidity to our USDC-XFL pool.
In this 'How to Guide', we show you how to set up MetaMask, and then you will learn how to use MetaMask, make transactions, and use DApps with it.
How to set up MetaMask?
MetaMask is available on web browsers, iOS and Android. You can install the MetaMask extension in Chrome, Firefox, Brave and Edge.
Because you want to use Uniswap, you should install the browser extension.
In addition to MetaMask, there is also a mobile wallet called Trust Wallet that natively supports Flame Token and that you can use to access Unsiwap on mobile.
But using DApps on mobile is a bit difficult and you should not expect a smooth experience. So browser extensions are the best option now.
We show you how to install MetaMask in the Chrome browser. You can follow the same steps to install it in other supported browsers.
Step 1: Add the MetaMask extension to Chrome
Visit Chrome Web Store and search MetaMask or click this link to add the extension to your browser. You can simply click on the "add to Chrome" button.

After you've added the MetaMask extension to your browser, click on the "get started" button to start setting up your wallet.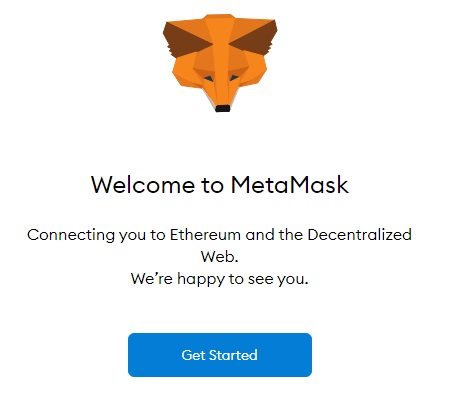 Step 2: Click on the "create a wallet" button
To create your first MetaMask wallet, click on the "create a wallet" button. If you have another wallet, you can import it into MetaMask too.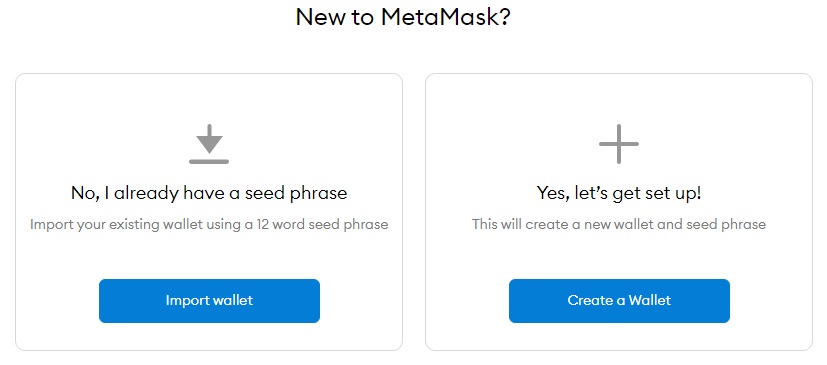 Step 3: Agree or disagree to anonymized data collection
MetaMask wants to collect some anonymized data to improve the wallet. You can agree to it or click on the "no thanks" button depending on your preference.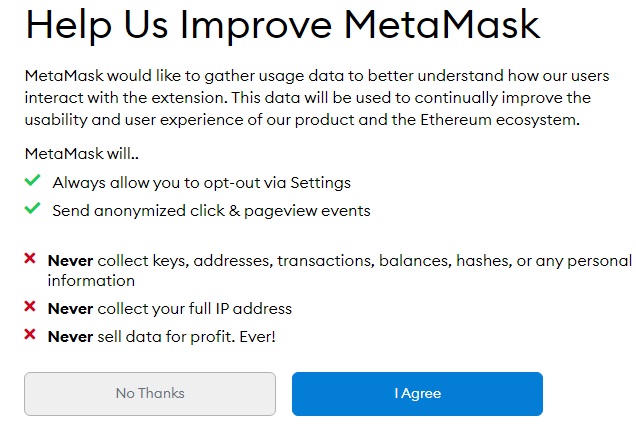 Step 4: Choose a password for your MetaMask wallet
In this step, you should choose a secure password for your MetaMask account. This is not your private key or seed phrase.
You will just use this password to log in to your MetaMask wallet. If you forget the password, you can import your wallet using the seed phrase that will be shown in the next step.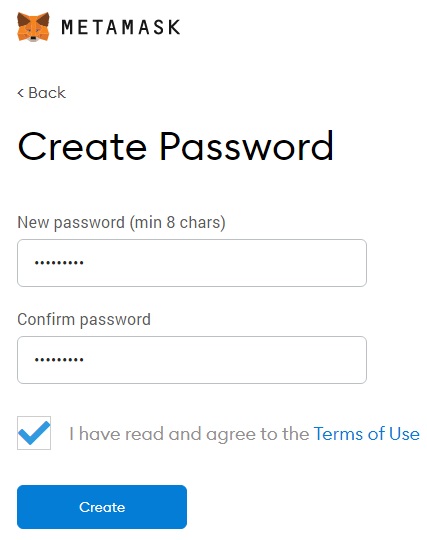 Step 5: Back up your seed phrase
Reveal your secret words (backup phrase) and write it down on a piece of paper. You can also store your backup phrase in a USB flash drive, preferably after encrypting it.
The security of your backup phrase must be of the utmost importance. Anyone who has access to your backup phrase can transfer your coins to different wallets.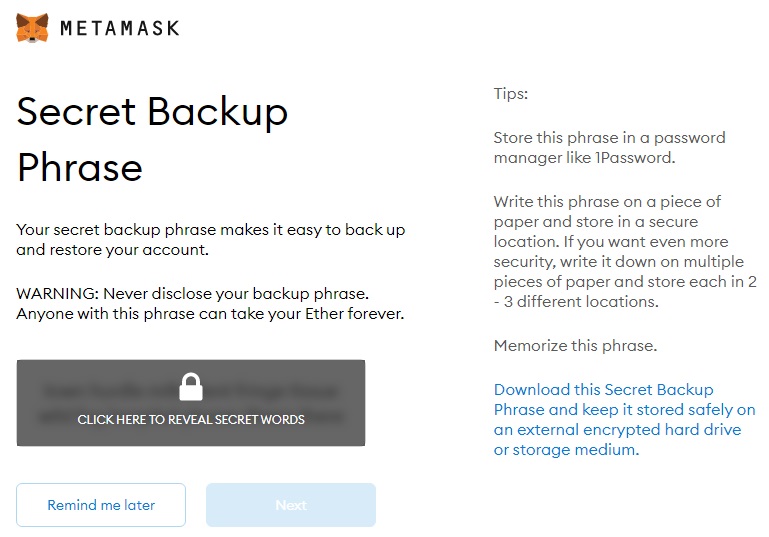 Step 6: Confirm your seed phrase
After revealing and saving your backup phrase, you need to enter it in order to confirm your backup phrase.
After confirming your backup phrase, you're all done! Read the tips on safety and click on the "all done" button to start using your MetaMask wallet.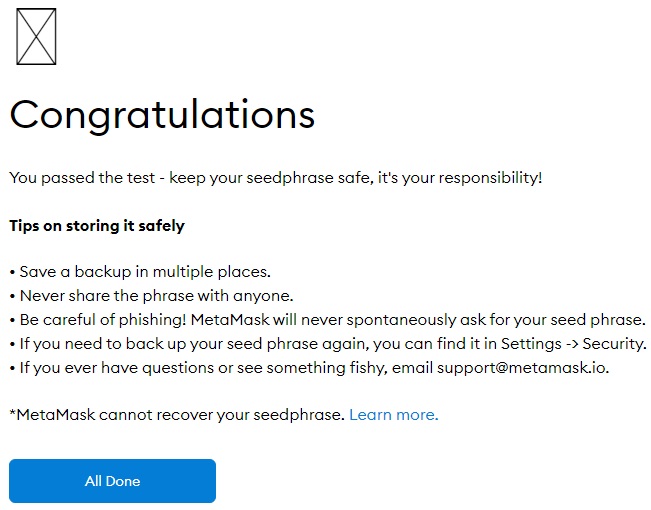 How to use MetaMask?
MetaMask is a very easy-to-use cryptocurrency wallet that is used for storing Ethereum and Ethereum-based tokens.
But, if you are new to cryptocurrency wallets, it might still look a bit confusing which is quite normal.
I'll show you everything you need to know about MetaMask so that you can use MetaMask without any issues.
Your Ethereum address on MetaMask
The first thing you should know is your Ethereum address. You can copy your Ethereum address by clicking on "Account details" as we show in the image below.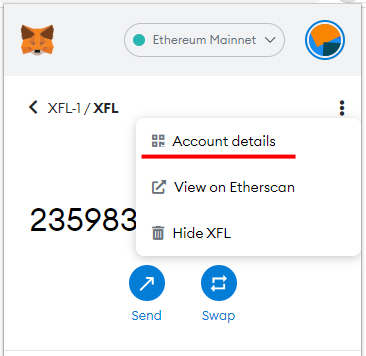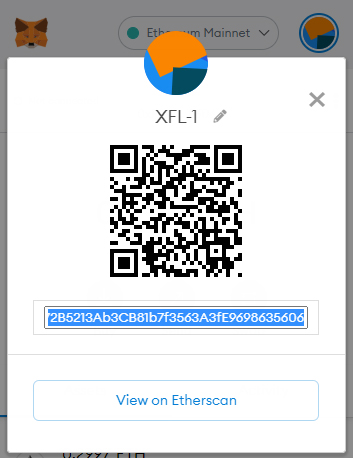 You can check your Ethereum address on Etherscan by entering your address, so you don't need to always log in to your MetaMask wallet to check your tokens.
You can send Ethereum, USDC, Flame Tokens, or other ERC-20 tokens or ERC-721 collectibles to your address from exchanges you use and from other wallets.
How to add Flame Tokens to MetaMask?
Flame Tokens are ERC-20 tokens that are not natively supported by MetaMask.
You add Flame Token by clicking on "Add Token"…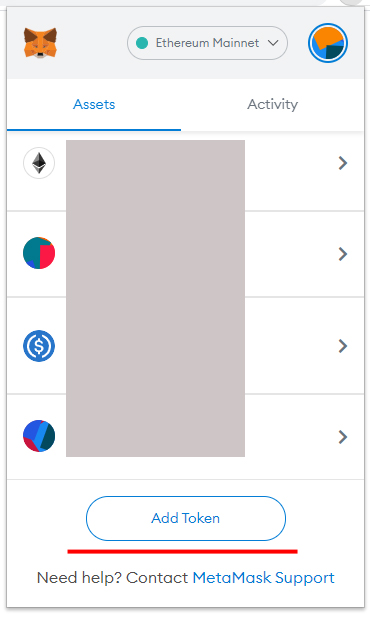 …and after this, you choose "Custom Token" where you add the 'Token Contract Address', the 'Token Symbol', and the 'Token Decimal':
Token Contract Address: 0x469861bdfd02e7ebce7cdeb281e8eec53069cf5f
Token Symbol: XFL
Token Decimal: 18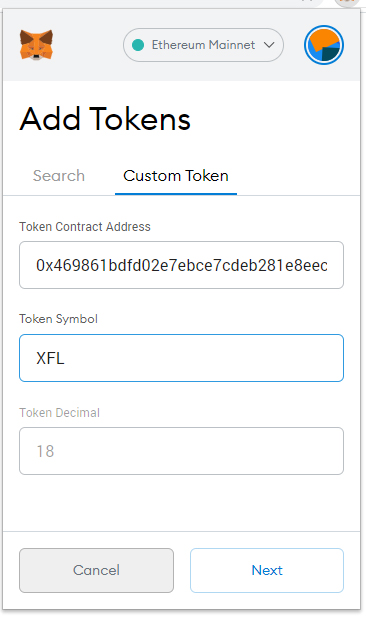 Confirm by clicking on 'Next" and "Add Tokens" in the second window.
Now you are ready to send ETH or USDC to your MetaMask wallet to buy Flame Token and provide liquidity on Uniswap.
For more information on MetaMask, please visit https://metamask.io/faqs.html
Yes, you heard it right. Flame Token is listed on Uniswap now, and you can swap them for USDC. If that was enough info for you, go to Uniswap and start swapping: >> Uniswap <<
For everybody else: You need to be very strong now. There is no easy way to purchase Flame Token right now.
This might change in a couple of weeks, but we know that you wanna be early in, so let's walk you through it. Its doable, lets go through this, step by step:
Flame Token (XFL) is an ERC-20 Token that lives on the Ethereum Blockchain. For now, the only way to buy XFL is to swap them on Unsiwap for USDC, which is another ERC-20 Token. To swap USDC for XFL, you need to go here: >> Uniswap <<
What is Uniswap?
Uniswap is a decentralized exchange protocol built on Ethereum. To be more precise, it is an automated liquidity protocol. There is no centralized party required to make trades. Prices are set automatically by smart contracts, and liquidity is provided by LPs (liquidity providers).
1. Connect with MetaMask
Connect with MetaMask and you're in. You don't need to have an account on Uniswap.
If you are a iOS user, you need to add one more step and choose "WalletConnect" first…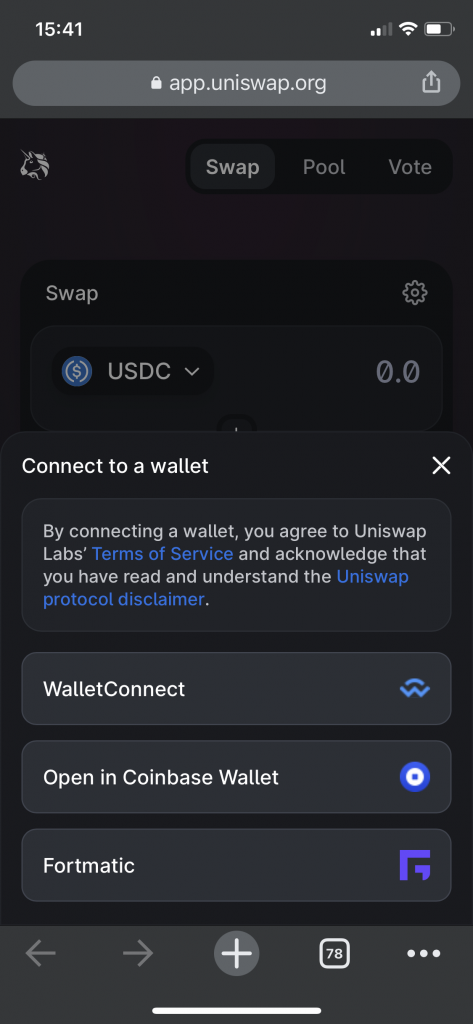 …and pick MetaMask from the second window.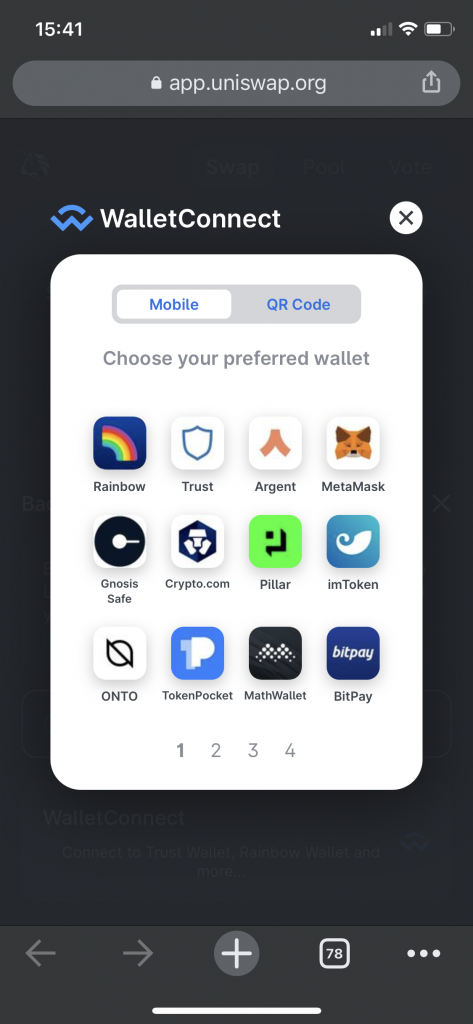 2. Confirm your password for MetaMask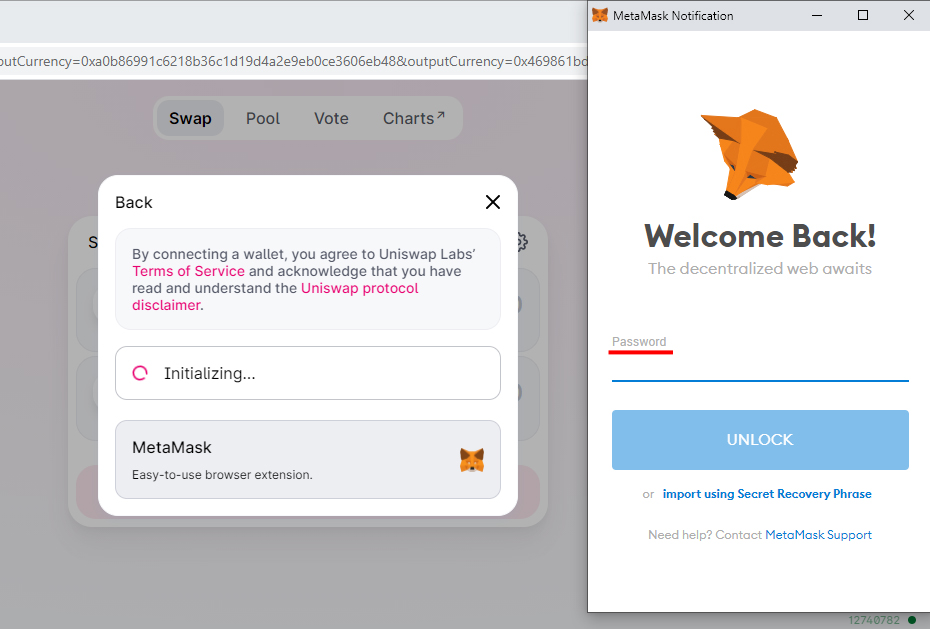 3. Choose your USDC amount
Once you are in, choose the amount of USDC you want to swap for XFL. This applies only if you have already USDC in your wallet. If you don't have them, you need to get them. And we will explain to you later how you can get USDC.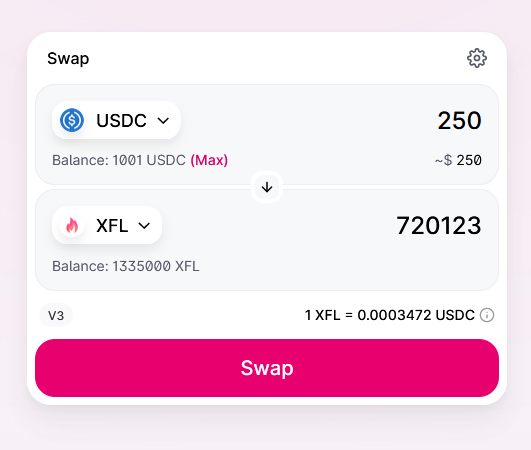 4. Confirm and receive XFL
Confirm your Swap and you will see a Summary Window that you need to confirm as well. This window will show you the Liquidity Provider Fee that you have to pay for the transaction and the estimated amount of XFL that you will receive.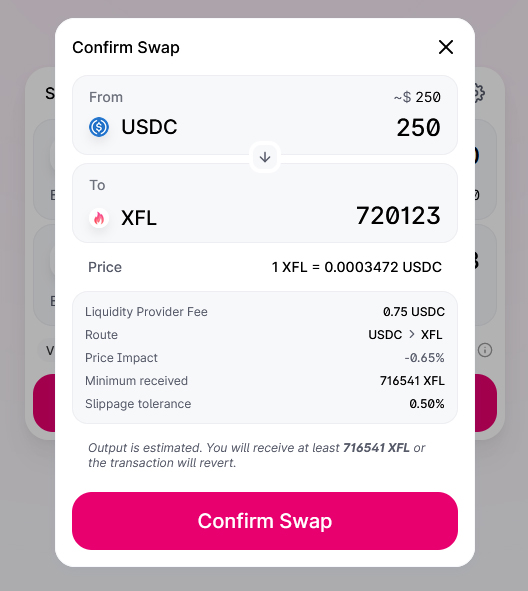 After you confirmed the swap here as well, you need to confirm the transaction (and the transaction fees for the Ethereum blockchain) in your wallet again.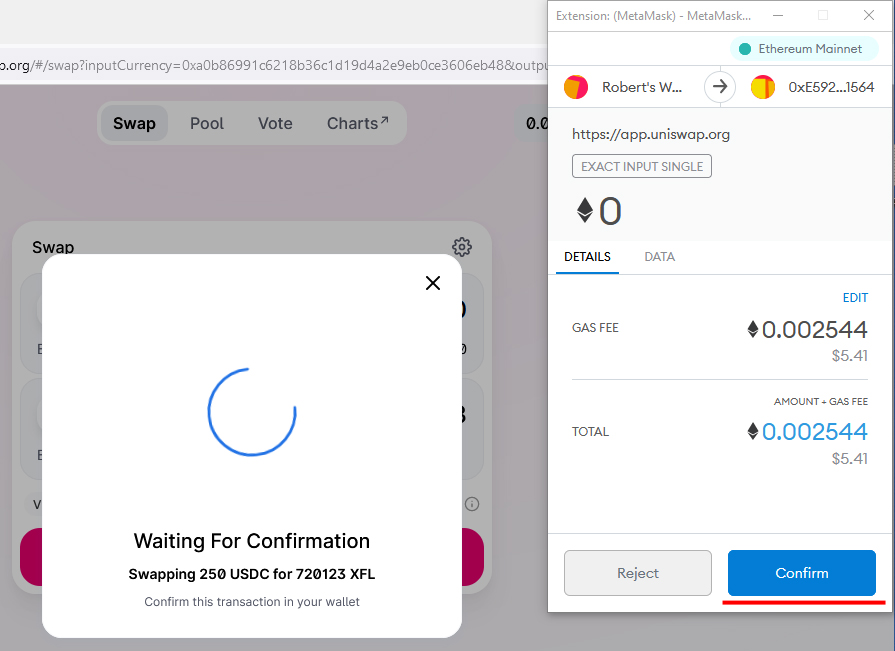 Depending on the time of the day, your transaction will take a few seconds are a few minutes.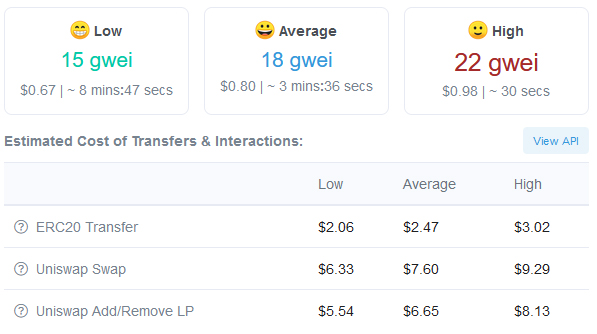 5. How to get USD Coin
USD Coin (USDC) is a type of cryptocurrency that is referred to as a stablecoin. You can always redeem 1 USD Coin for US$1.00, giving it a stable price.
USDC is an Ethereum ERC-20 token, so you can store it in an Ethereum-compatible wallet, like MetaMask.
a) Swap ETH/ERC-20 tokens
If you already own ETH, or a ERC-20 token that is already listed on Uniswap, you can swap that token for USDC and then swap USDC for XFL.
b) Buy on an exchange
If you are new to this and want to buy USDC through a bank transfer or Credit Card transfer, you can do this either on Coinbase, Circle, or other exchanges like Binance, Kraken, or others.
c) Buy directly with credit card
You can also buy USDC directly on services like MoonPay or Simplex, and send them to your MetaMask wallet.
Here we describe the process on MoonPay. Just go over there by clicking here: >> MoonPay <<
Choose the amount of USDC that you want to buy with a credit card.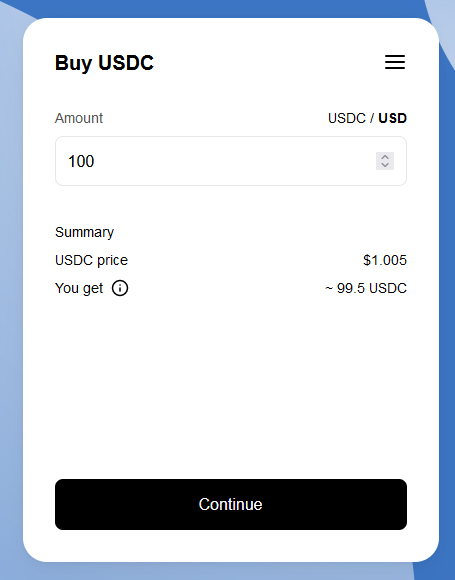 In the next step you need to enter your MetaMask wallet address (or connect with MetaMask).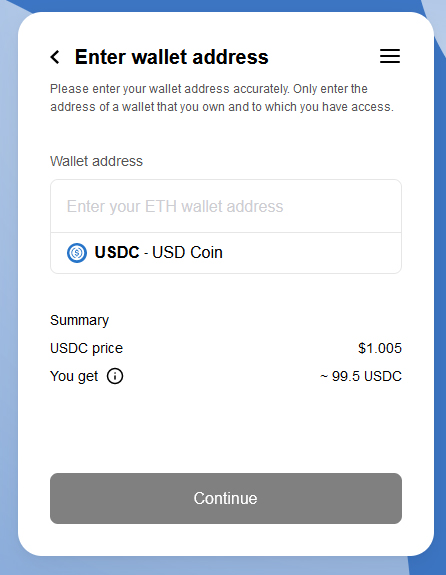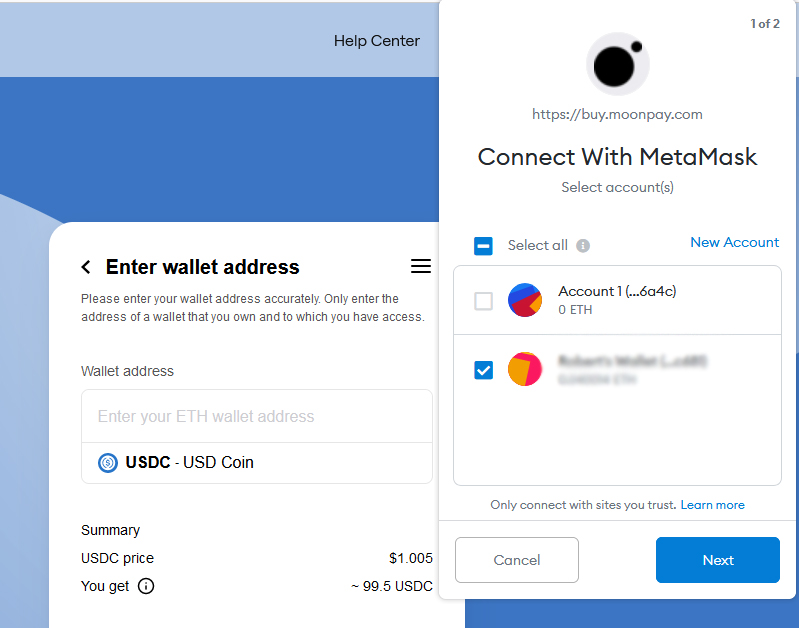 Click on Next…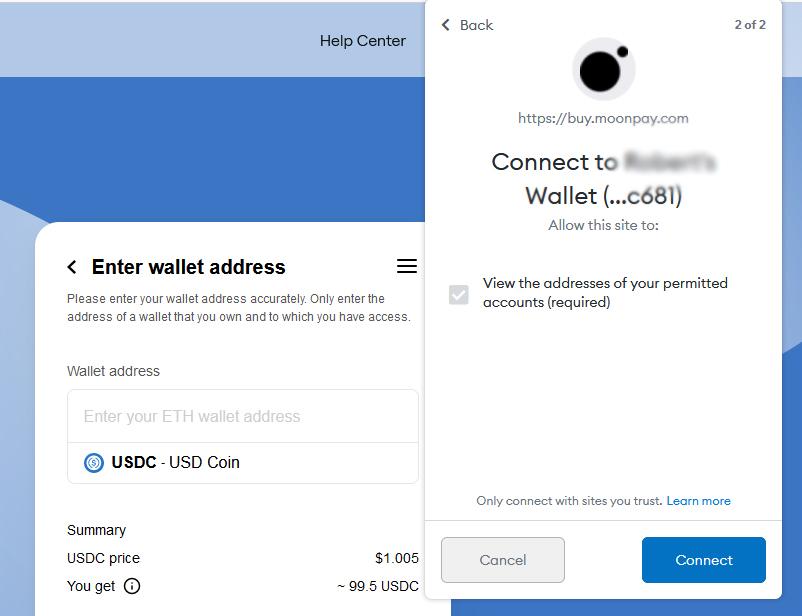 …and connect your MetaMask wallet.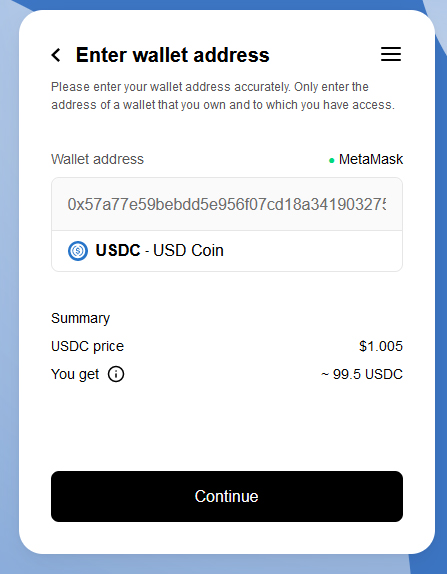 In the next step, please add your email address…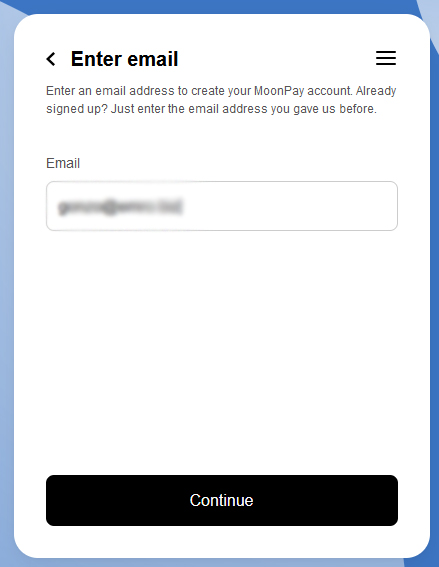 …and verify it.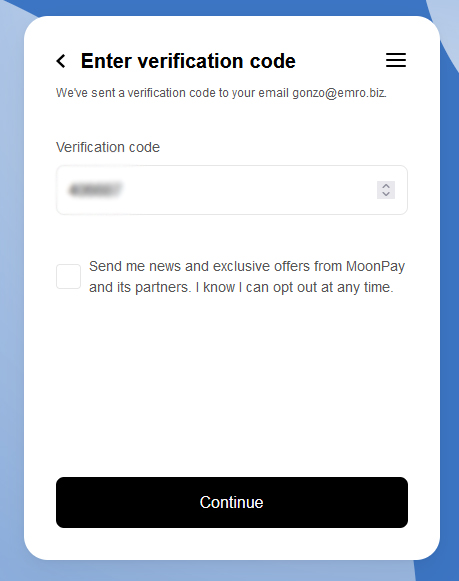 In the last step, you add your credit card data, agree to MoonPay's Terms of Use and finalize the purchase with "Buy now".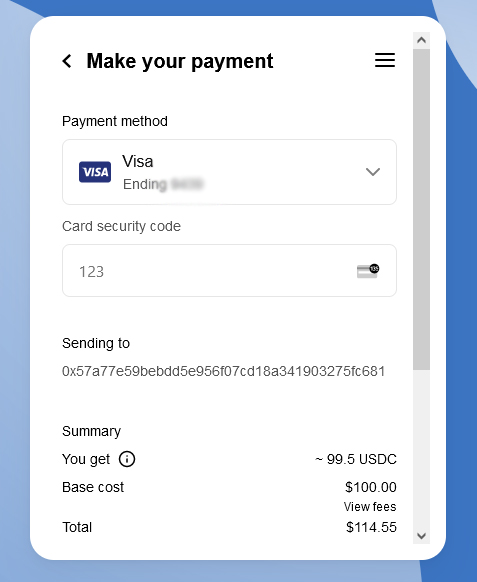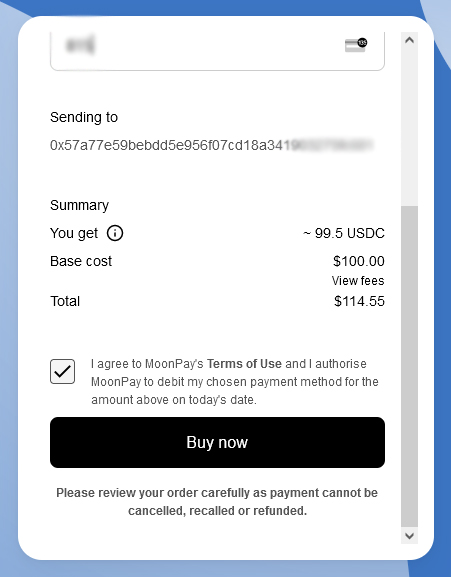 Your order is now placed and in the verification process.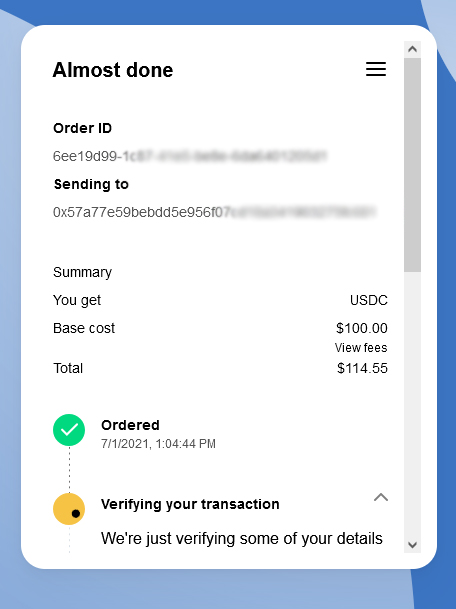 It is possible that MoonPay will ask you to verify your identity. Just follow the steps on the screen in that case.
d) Use Trust Wallet to buy USDC
Trust Wallet is right now the only wallet that natively supports Flame Token. It has also an implementation to buy USDC with a credit card.
Go to the website of Trust Wallet and install the app on your phone:  https://trustwallet.com/download-page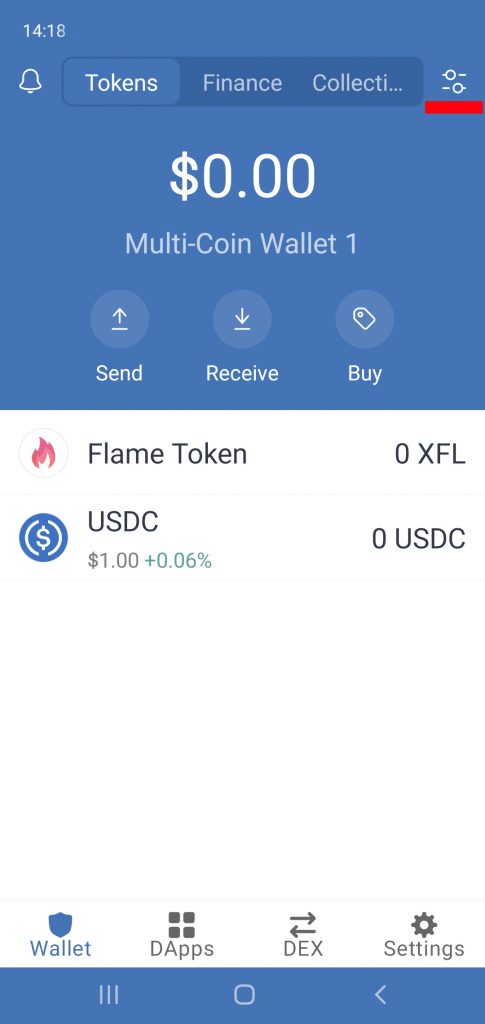 Click on the Tokens settings icon in the upper right corner and search for USDC and XFL to see them in your token overview screen.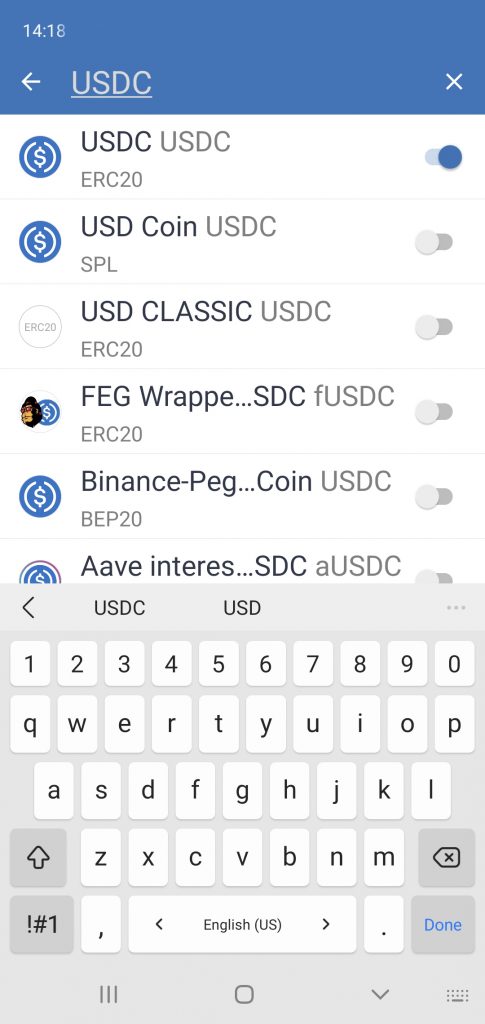 Choose then for USDC and go to "Buy USDC".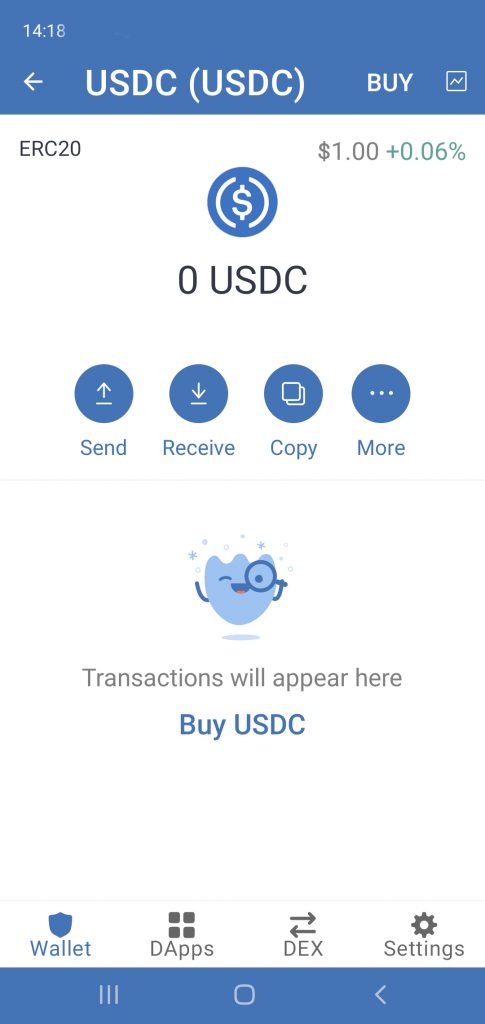 Choose in the next window the payment gateway and continue.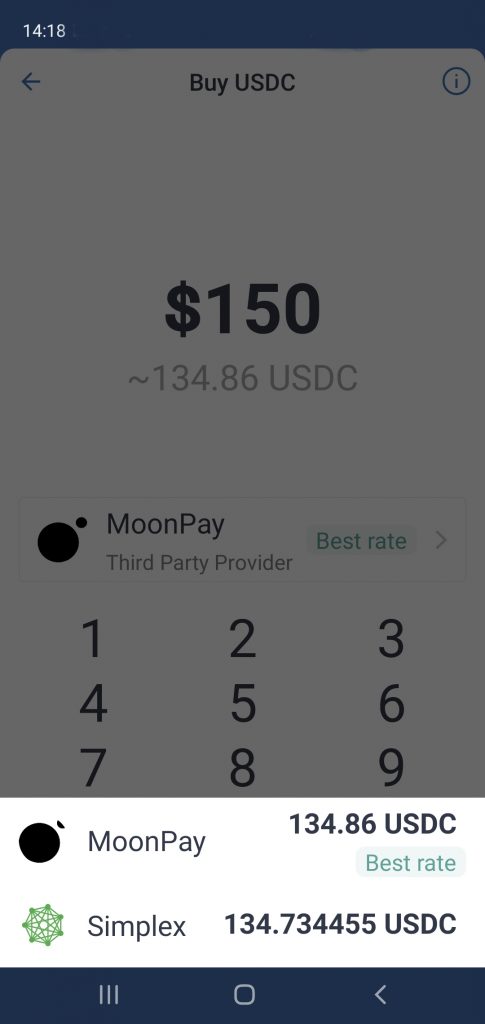 Note: Simplex offers the possibility to pay on iPhone with Apple Pay and skip the KYC verification process for smaller amounts.
After you purchased USDC, send them to your MetaMask wallet.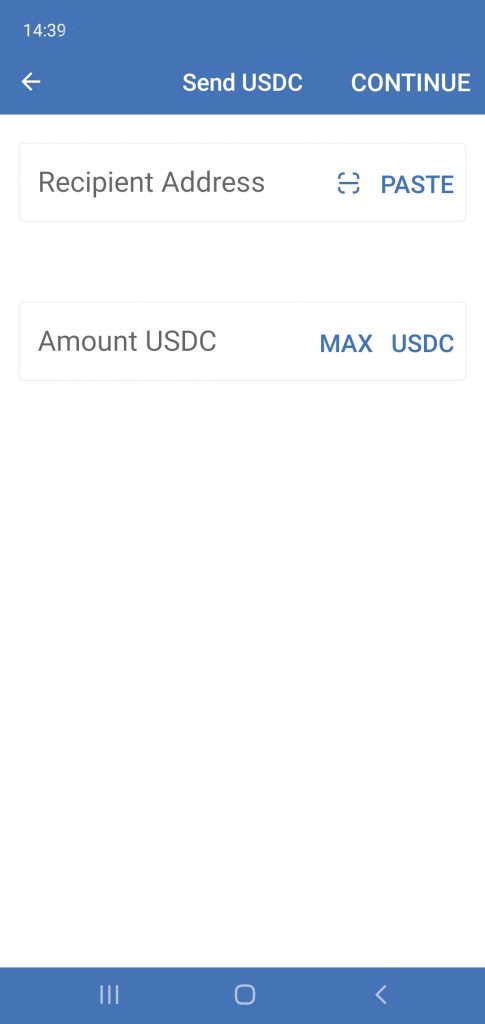 You can find the address of your MetaMask wallet under "Account details" in your MetaMask wallet.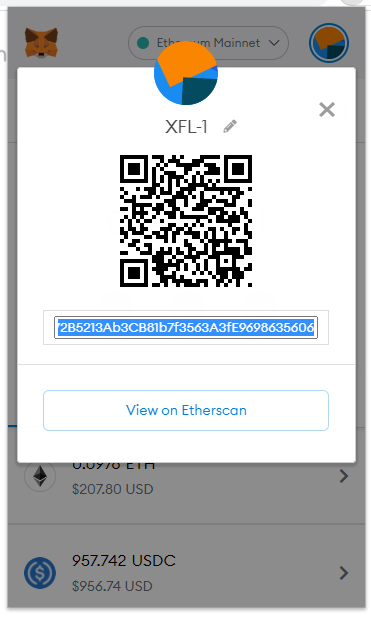 We are launching a USDC/XFL liquidity pool on Uniswap where contributors have the ability to earn XFL. We encourage everyone to add liquidity to the pool and stake their Flame Tokens in order to earn extra tokens. You find all details here: Flame Token LP program.
Get Started
Official link to add liquidity to the USDC/XFL pair:
https://app.uniswap.org/#/add/0xA0b86991c6218b36c1d19D4a2e9Eb0cE3606eB48/0x469861BDfd02E7ebCE7CdEb281e8EEC53069cf5f/3000
USDC/XFL Pool Address:
0x62da6e3d1eb812a6c49f73246429f2188d50b534
XFL Contract: 0x469861bdfd02e7ebce7cdeb281e8eec53069cf5f
USDC Contract:
0xa0b86991c6218b36c1d19d4a2e9eb0ce3606eb48
Add Liquidity to the USDC/XFL Pool
1. Go to Uniswap:
https://app.uniswap.org/#/add/0x469861BDfd02E7ebCE7CdEb281e8EEC53069cf5f/0xA0b86991c6218b36c1d19D4a2e9Eb0cE3606eB48/3000
Make sure to have an equivalent amount of XFL and USDC in your own MetaMask or Trust Wallet.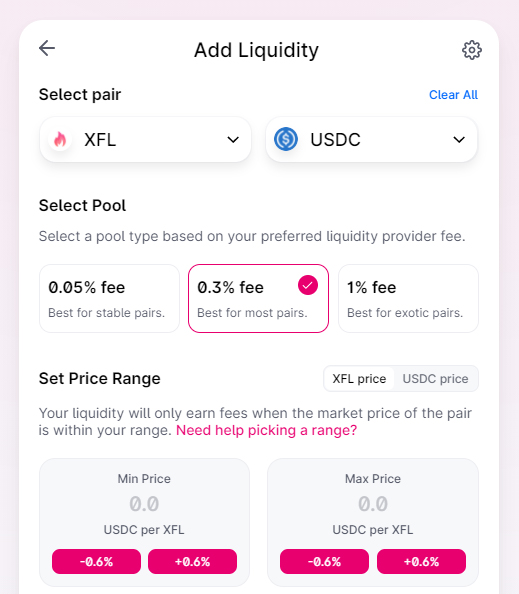 2. Select a price range
Select a price range in which to provide liquidity. Your liquidity will only earn fees when the market price of the pair is within your range. Need help picking a range?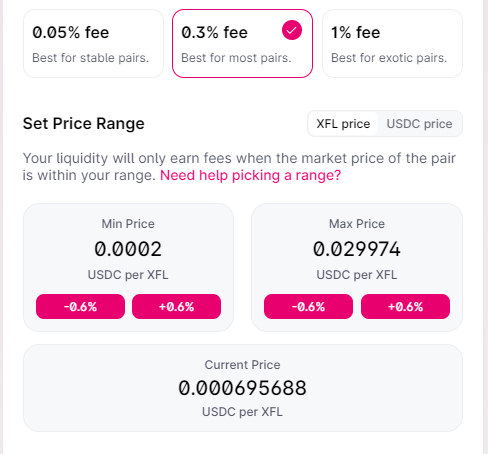 3. Set capital
Now you must decide how much capital to contribute.
Entering a value in one of the 'Select Deposit Amounts' modules will automatically fill the remaining module on a 50/50 split basis.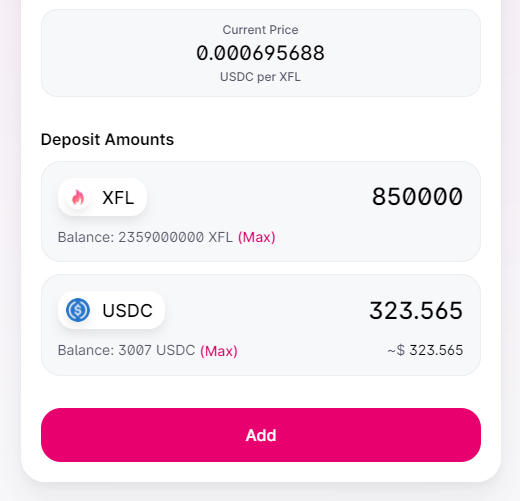 4. Approve Uniswap V3 contract
The final step in the liquidity provision process requires LPs to approve the Uniswap v3 router contract to spend tokens on their behalf.
Click on 'Add' to see a summary window. Click again on 'Add' and confirm the transaction in your wallet.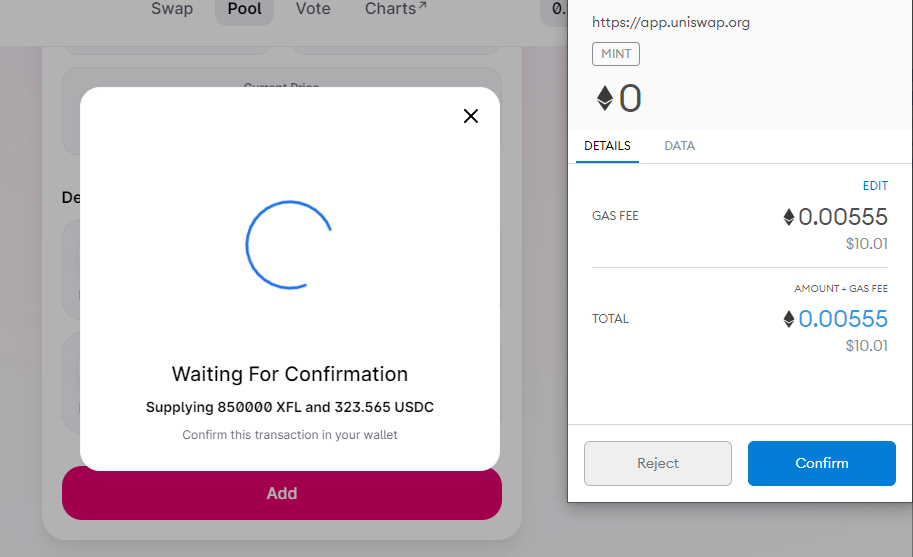 After adding the liquidity, you will receive UNI-V3 LP tokens.
For more information on Uniswap Liquidity Pools, please visit https://docs.uniswap.org/concepts/introduction/liquidity-user-guide