We are launching a USDC/XFL liquidity pool on Uniswap where contributors have the ability to earn XFL. We encourage everyone to add liquidity to the pool and stake their Flame Tokens in order to earn extra tokens. You find all details here: Flame Token LP program.
Important links
Official link to add liquidity to the USDC/XFL pair:
https://app.uniswap.org/#/add/0xA0b86991c6218b36c1d19D4a2e9Eb0cE3606eB48/0x469861BDfd02E7ebCE7CdEb281e8EEC53069cf5f/3000
USDC/XFL Pool Address:
0x62da6e3d1eb812a6c49f73246429f2188d50b534
XFL Contract:
0x469861bdfd02e7ebce7cdeb281e8eec53069cf5f
USDC Contract:
0xa0b86991c6218b36c1d19d4a2e9eb0ce3606eb48
Step 1: Go to Uniswap
https://app.uniswap.org/#/add/0x469861BDfd02E7ebCE7CdEb281e8EEC53069cf5f/0xA0b86991c6218b36c1d19D4a2e9Eb0cE3606eB48/3000
Make sure to have an equivalent amount of XFL and USDC in your own MetaMask or Trust Wallet.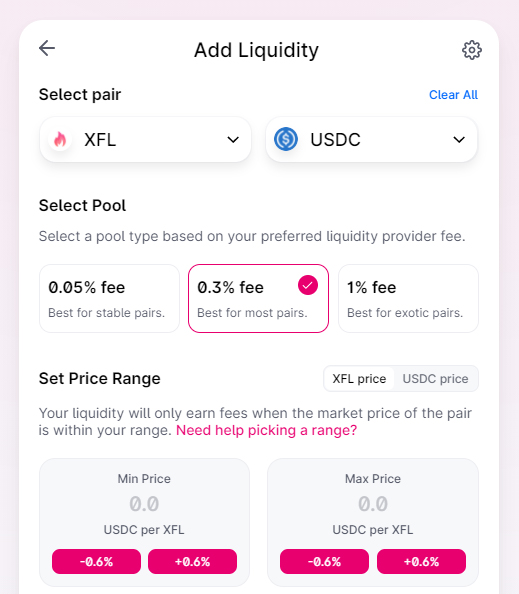 Step 2: Select a price range
Select a price range in which to provide liquidity. Your liquidity will only earn fees when the market price of the pair is within your range. Need help picking a range?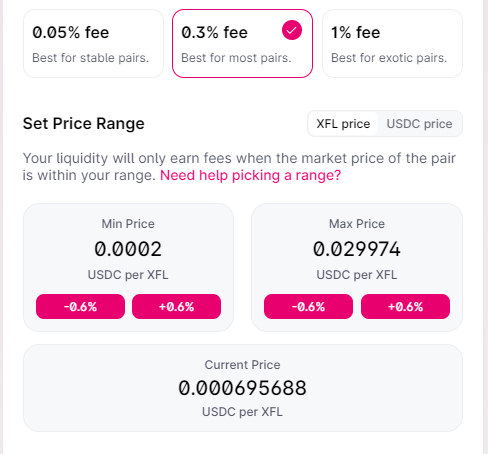 Step 3: Set capital
Now you must decide how much capital to contribute.
Entering a value in one of the 'Select Deposit Amounts' modules will automatically fill the remaining module on a 50/50 split basis.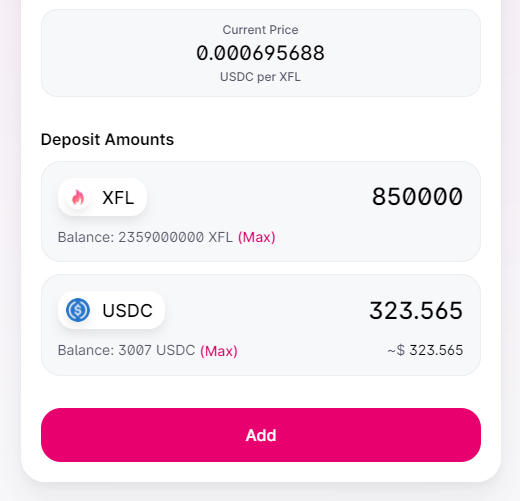 Step 4: Approve Uniswap V3 contract
The final step in the liquidity provision process requires LPs to approve the Uniswap v3 router contract to spend tokens on their behalf.
Click on 'Add' to see a summary window. Click again on 'Add' and confirm the transaction in your wallet.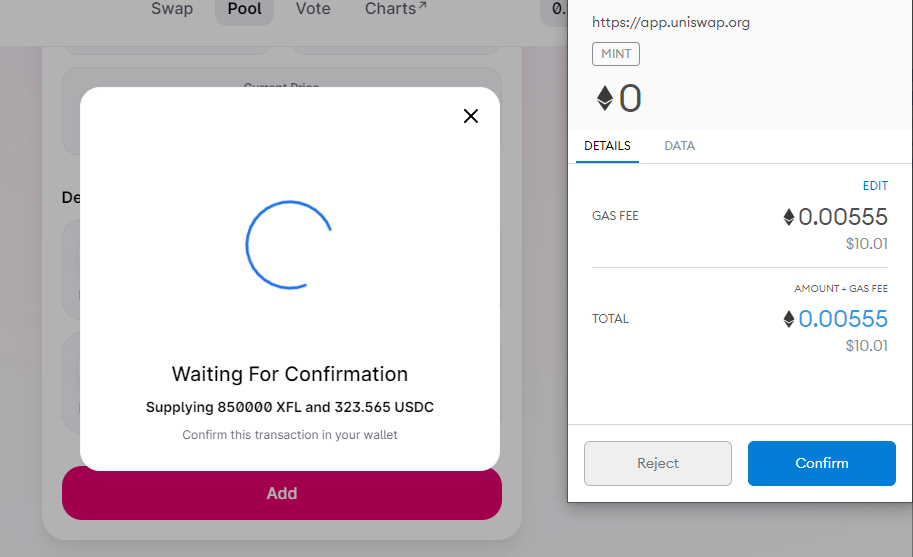 For more information on Uniswap Liquidity Pools, please visit https://docs.uniswap.org/concepts/introduction/liquidity-user-guide