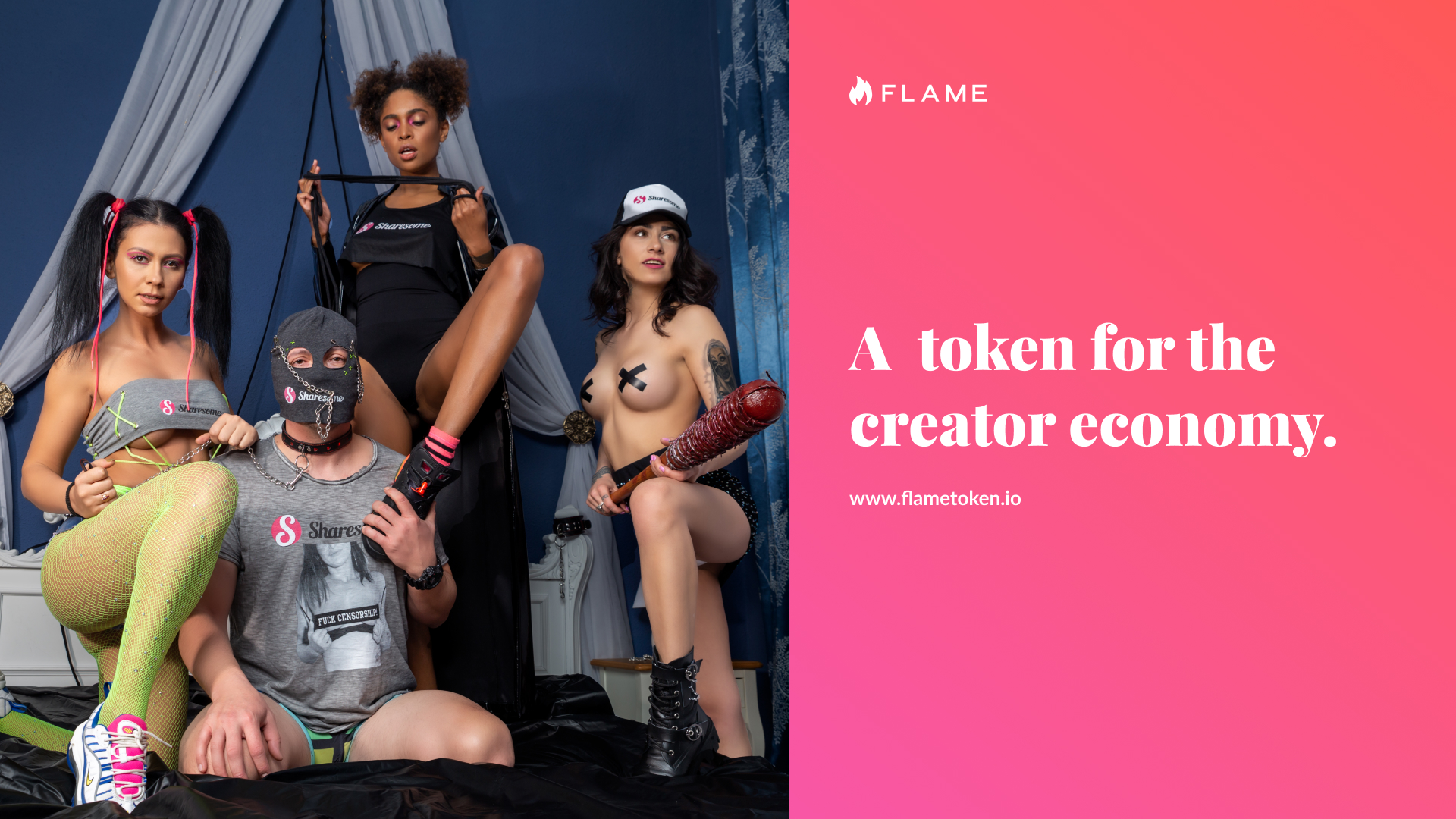 Social ads for adult content creators
High-efficiency brand campaigns
OnlyFans changed sex work forever. Founded in 2016, the platform grew into a billion-dollar business for performers who provide clips and photos to followers for a monthly subscription fee. Two million content creators have currently an OnlyFans account.
Some of these creators make hundreds of thousands of dollars every month, but they have a problem: They can not advertise their products or services on mainstream social media.
Facebook, Instagram, Snapchat, TikTok, Twitter, and Reddit do not allow ads for adult-oriented products and services. So, any pornographic or sexually explicit content is off-limits on those platforms. That means that they are "advertising no man's land" for adult content creators.
Sharesome For Business
Sharesome presents itself as an alternative to the existing platforms. Sharesome is the only social media platform that does not discriminate against NSFW content, creators, and brands. People use Sharesome to connect with their favorite stars and brands, communicate with others, build relationships, share, comment, and like their favorite content.
Sharesome For Business is where you can promote your posts and give them a massive head start on engagement. Promoted Posts are just like regular Sharesome posts — just way more visible. This includes native video for web and mobile in the same Promoted Post format you know and love.
Sharesome is the only social media site where creators can run a campaign for their OnlyFans. There are over 20.000 topics with 200M post views to tap in.
But monthly active users, topics, and post views are just one metrics that define the success of an advertising campaign. The most important one from our point of view is engagement rates.
Industry Benchmark №1: Engagement rate
Engagement rates are the currency of social media marketing. In other words: It's good to be on a platform with a huge userbase, but it doesn't mean a lot if your audience doesn't care about the content you post. You need comments, shares, and likes that prove your content is resonating with the people who see it.
So, what are good engagement rates?
According to our 2022 Social Media Industry Benchmark Report, the median engagement rate for Facebook is 0.064%.
Instagram engagement rates fell by about 30% this year, which is sobering news for any social media professional. The good news? Instagram engagement rates at 0.67% are still way higher than Facebook or Twitter.
Health & Beauty, Influencers, Nonprofits, and Sports Teams were able to increase their Twitter engagement rates. The median across all industries is 0.037%.
Looking at Sharesome, we divided the audience into three groups: Brands, Stars, and Verified Users.
Brands are mostly companies promoting their business on Sharesome. We have brands like AdultPrime, Brazzers, Letsdoeit, RealityKings, Stripchat, and Vixen. Their median engagement rate in Q1/2022 was 0.93% on Sharesome.
Stars are creators who promote themselves as their own brand. We have stars like Brittany Andrews, Eva Elfie, GamerGirlRoxy, Ginger Banks, Polyannie, and thousands of others. Their median engagement rate in Q1/2022 was 1.81% on Sharesome.
Verified users are users posting original content without any commercial interest. Their median engagement rate in Q1/2022 was 3.17% on Sharesome.
The median engagement rate on Sharesome is 1.08%.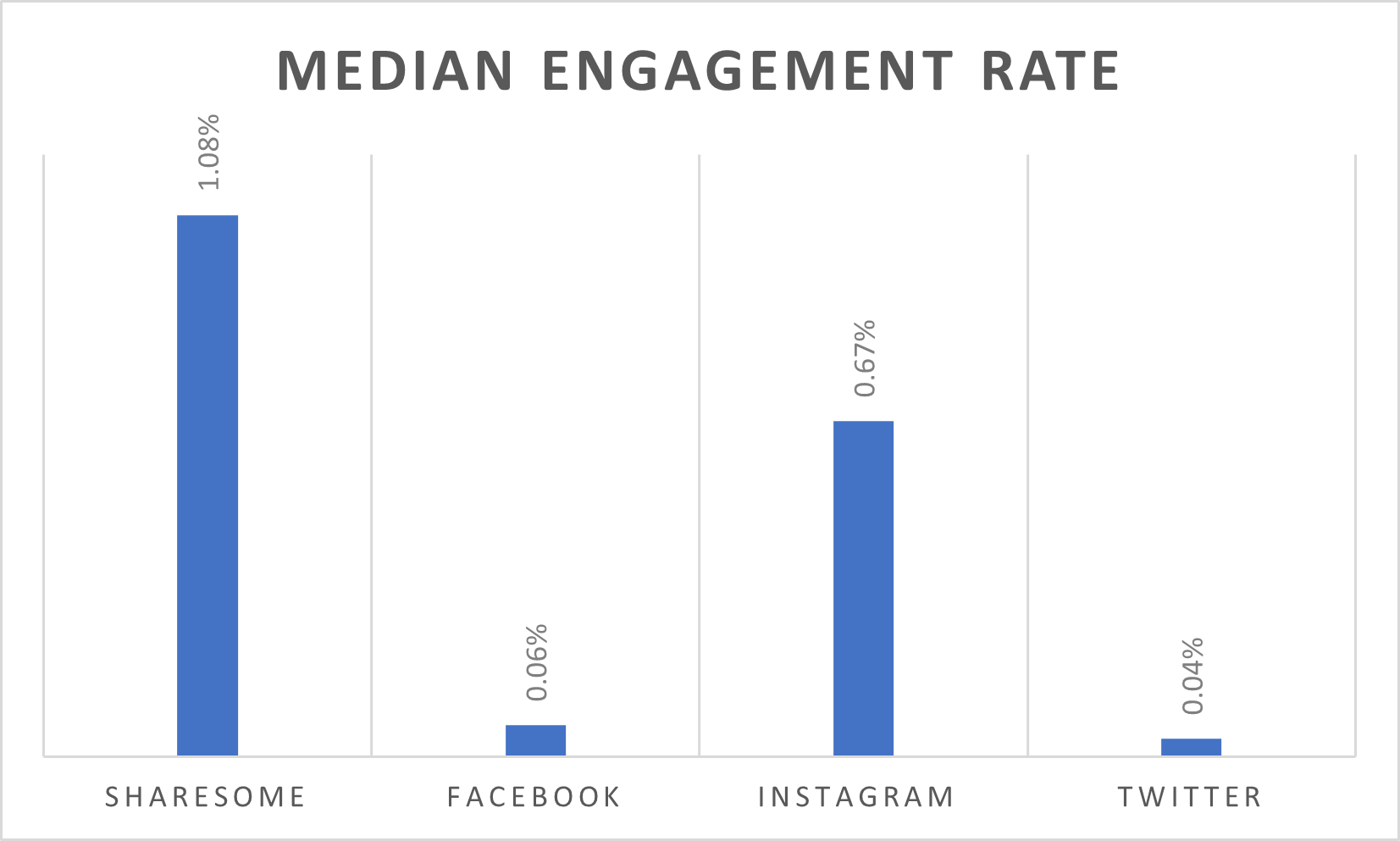 It seems that we are doing generally better than mainstream social media sites when it comes to engagement. Even the brands that are active on Sharesome are doing better than the average mainstream social media creator. We will further analyze the reasons for this, knowing that higher numbers are harder to achieve as more followers you have. Sharesome is still in the early days.
Nevertheless, this is a good sign for our advertisers. It means that the users on Sharesome interact with the content on a level that it is possible to build real relationships with the followers. Sharesome ads are making real connections and are highly efficient.
We know that we are the only social media site that allows NSFW ads. But to be the only one is not enough for us. We also want to deliver the best possible product to our customers.
Check Sharesome For Business and meet your business goals:
Awareness: Maximize your brand's reach.
Video views: Get people to watch your video.
Website clicks: Drive traffic to your website.
Engagement: Get people to engage with your posts.
Followers: Build a fanbase for your account.
Budget: Start promoting your brand on Sharesome starting with $5

Further research
The best way to start your journey into Flame Token is our website: www.flametoken.io
Check also our latest Medium post: XFL Tokenomics, Part 1
Join the conversation here:
Discord: https://discord.gg/sharesome
Sharesome: https://sharesome.com/FlameToken/
Twitter: https://twitter.com/FlameToken
Telegram: https://t.me/FlameTokenNews
Reddit: https://www.reddit.com/r/flametoken

Best regards
Ralf Kappe, Flame CEO & Founder
https://sharesome.com/RalfKappe/ (NSFW)
https://twitter.com/RalfKappe